1/1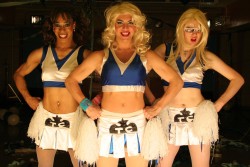 ---
TEAM QUEEN
United States, 2007, 3 min
Shooting Format:35mm
Festival Year:2009
Category:Experimental
Cast:Murray Hill, Julie Atlas Muz, Scotty the Blue Bunny, Molly the Dolly, Tigger
Crew:Executive Producer: Triple Creme - Producer: Monica Hoenig - Screenwriter: Leah Meyerhoff - Editor: Leah Meyerhoff - Cinematographer: Cary Fukunaga - Original Score: Triple Creme
Sales:Leah Meyerhoff, Director - Unicorn Films - T: 347-294-0944
Email:leah@leahmeyerhoff.com
Synopsis
You are cordially invited to a gender-bending, fire-breathing, tassel-twirling, post-punk rock 'n roll prom. The new girl in school is thrown into a topsy-turvy madhouse of high school hellcats. The cheerleaders are drag queens, the nerds are nymphomaniacs, the punks breathe fire, and the prom band is none other than queer-post-punk phenomenon Triple Creme. Starring the best of New York burlesque, including Murray Hill, Julie Atlas Muz, Tigger, Scarlet Sinclair, Molly the Dolly, and Scotty the Blue Bunny.
Trailer
About the director
Leah Meyerhoff's debut feature film I BELIEVE IN UNICORNS premiered in the narrative competition of SXSW 2014 and is currently traveling the film festival circuit. Her previous short films have screened in over 200 film festivals, won a dozen awards, and aired on several cable networks. She has been shortlisted for the Gotham Awards and received high profile grants from IFP, the Tribeca Film Institute and the Adrienne Shelly Foundation. Her short film TWITCH was shortlisted for a Student Academy Award, won a Slamdance Grand Jury Prize, and was picked up by IFC, PBS, Hulu, and Skandinavia TV. She directed a commercial for CONVERSE and music videos for TRIPLE CREME, JOAN AS POLICE WOMAN and LUFF, which aired on LOGO and MTV. Leah also starred in the docudrama FILM SCHOOL on IFC. Leah participated in both IFP's Emerging Narrative Labs and Narrative Finishing Labs. She was one of ten filmmakers chosen for the New York Film Festival's Emerging Visions program, one of eight filmmakers in the 2013 Tribeca All Access Labs and was recently honored with the Adrienne Shelly Director's Award. Leah is a Tribeca Film Institute mentor and the founder of Film Fatales, a female filmmaker collective based in New York. She is a Brown University graduate and Dean's Fellow in Graduate Film at NYU.
Leah Meyerhoff's filmography
Notes
Director Leah Meyerhoff will be available for Q&A after the screenings.
Related links