1/1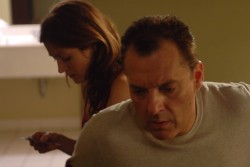 ---
THE LAST LULLABY
East Coast Premiere
Director: Jeffrey Goodman
United States, 2008, 93 min
Shooting Format:35mm
Festival Year:2009
Category:Narrative Feature
WINNER: Best Original Score
Cast:Tom Sizemore, Sasha Alexander, Bill Smitrovich, Ray McKinnon, Sprague Grayden
Crew:Producer: David Koplan - Screenwriter: Max Allan Collins and Peter Biegen - Editor: Philip Harrison - Cinematographer: Richard Rutkowski - Original Score: Ben Lovett - Sound: Kelly Cabral
Sales:Jeffrey Goodman, Director - Chaillot Films, 409 Southfield Road, Shreveport, LA 71106 USA - T: 323/841-3529 - F: 318/868-7851
Email:amoprinciple@hotmail.com
Synopsis
Can we make movies thoughtful and quieter and still make them riveting? That's the question at the heart of Lullaby. This beautifully shot contemporary film noir takes the genre and spins it off into subtle and meditative directions. Co-written by the creator of The Road to Perdition and starring Tom Sizemore (Saving Private Ryan, Heat) and Sasha Alexander (NCIS, daughter-in-law of Sophia Loren), some have deemed Lullaby the "sweet hitman movie". The delicate performances and the alarming action make for a great date night. And its atmospheric, brooding tone creates an extremely nervy ride. It's more emotional than most films in the genre. And while there's a good share of violence, what really drives Lullaby is character.
Trailer
About the director
Jeffrey Goodman decided he wanted to make films while living in France. He ended up raising all the money for Lullaby himself, selling the film in $50,000 units to 48 private investors in his hometown of Shreveport, Louisiana. He believed it would take this level of freedom to make a movie that he felt was slightly different than most things currently being made. Now Jeffrey has taken things a step further, making the decision to self-release the film himself. Jeffrey chronicles his journey of self-distribution on his weekly blog for MovieMaker magazine
Notes
Director Jeffrey Goodman will be available for Q&A after the screenings.
Related links