1/1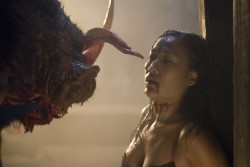 ---
PIG HUNT
NY Premiere
United States, 2008, 100 min
Shooting Format:Super 16
Festival Year:2009
Category:Narrative Feature
Cast:Travis Aaron Wade, Tina Huang, Bryonn Bain, Les Claypool, Charlie Musselwhite
Crew:Executive Producer: Robert Mailer Anderson - Producer: Robert Mailer Anderson, Jim Isaac - Screenwriter: Robert Mailer Anderson, Zack Anderson - Editor: Graham Wilcox - Cinematographer: Adam Kane - Original Score: Les Claypool and David E. Russo
Sales:Patrick Ewald, Sales Agent - Epic Pictures Group, 9107 Wilshire Blvd, Suite 450 Beverly Hills, CA 90210 - T: 310-497-6338
Email:patrick@epic-pictures.com
Synopsis
Deep country bliss turns into a verdant hell when John, his girlfriend, and a group of buddies head out from San Francisco for a weekend of pig hunting at the remote Mendo County ranch of an uncle who died under mysterious circumstances. Not only do the city slickers soon suspect a ravenous 3,000-pound black boar is rampaging through the forest, they also discover other malevolent forces -- including a heavily armed clan of rednecks, a machete-toting cult leader with a taste for poetry and his own blood, and his emu-raising, pot-growing, crew of femme fatales. There's even riveting performances by blues harp legend Charlie Musselwhite, and ex-Primus front man Les Claypool playing the vengeful tweaked-out Preacher.
Trailer
About the director
Director of Jason X, Skinwalkers, and The Horror Show. Jim Isaac started his career in the Lucasfilm creature shop on Return of the Jedi, then worked with Chris Walas at CWI designing, building, and puppeteering on the films Gremlins, Romancing the Stone, and Enemy Mine, among others. He did creature effects on David Croneberg's The Fly (which won an Academy Award), was project supervisor on Naked Lunch, and visual and special effects supervisor on eXistenZ.
Filmmaker's note
It's a killer monster pig movie. It's a psycho-meth action biker film. It's a city-dwellers-ambushed-in-redneck-hell survival flick. It's a hippie sex film. Baby, it's PIG HUNT - a darkly comic thriller with one seriously cool monster at its core.
From Writer/producer Robert Mailer Anderson and director/producer Jim Isaac comes "the wildest American horror film of the year!" (Mitch Davis, Fantasia Film Festival).
Tony Timpone, editor of FANGORIA says, "PIG HUNT is an intense and scary ride that goes places that you NEVER expect!"
Arrow In The Head writes, "Holy sh*t - what a f***ing crazy flick! It's one seriously balls out horror/action hybrid..." By the time the credits roll, PIG HUNT has swung its "kill-stick" into the flesh of classics such as DELIVERANCE, GRIZZLY and THE ROAD WARRIOR.
"It's cinematic punkabilly," Anderson says. "A smart film that loves being a movie."
Related links