1/1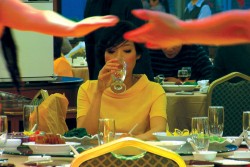 ---
TAIAN LU
NY Premiere
Director: Mathieu Borysevicz
China, 2008, 13 min
Shooting Format:HDCAM
Festival Year:2009
Category:Narrative Short
Cast:Yan Yang, Mathieu Borysevicz, Fan Lucy, Ding Yi, Zhuang Kai, Zhuang Bing
Crew:Executive Producer: Mathieu Borysevicz, Intelligent Alternatives - Producer: Liu Peng - Screenwriter: Mathieu Borysevicz - Editor: Mathieu Borysevicz - Cinematographer: Mathieu Borysevicz - Original Score: Kristian Borysevicz - Sound: Kristian Borysevicz
Sales:Mathieu Borysevicz, Director - Shanghai, China - T: +86 21 6466 0901
Email:mabzchina@gmail.com
Synopsis
The story centers around Taian Lu No.6, a dilapidated colonial era building, now home to an eclectic cross section of Shanghai's demography. Through the daily conundrums of the houses' residents, a cross-cultural television show, tele-conference forays with New York's Chinatown, the waking dreams of a pregnant mother and the anxieties of an expectant father, the extended family of man in the 21st century is told. The conflicts and contrasts of today's China unfold as a series of quick cut fantasies and facts. Mixing allegory, class stratification and poetry, this film is a frenetic and impressionistic ode to a China as a global concept- enrapt in an accelerated and often erratic attempt to do too much too soon.
About the director
Mathieu Borysevicz, artist, critic and filmmaker, splits his time between NYC and Shanghai. His photography and video work has been shown internationally at venues such as ICA London, The Tribeca Film Festival, the Bauhaus, Duolun Museum Shanghai, Bronx Museum, Artists Space, Storefront for Art and Architecture NY, Center for Contemporary Culture, Barcelona, Mass MoCA, and at the Israeli Center for Contemporary Art, Tel Aviv. Borysevicz has also worked in the production and post-production of films and television for such networks as ABC, BET, ZDF, Arté, History Channel, and National Geographic.
Filmmaker's note
From the point of view of a mixed couple on the verge of having a (Euro-Asian) child, love in today's China comes alive as a concept that is both universally pervasive and persistently elusive. Mixing documentary, fiction and fantastical elements the story unfolds as a strange day-in-the-life odyssey of this young couple.
Notes
Composer Kristian Borysevicz will be available for Q&A after the screenings.
Related links