1/1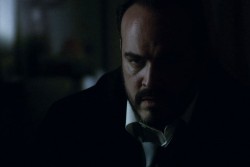 ---
CONCERTO
NY Premiere
United States, 2008, 14 min
Shooting Format:HDCAM
Festival Year:2009
Category:Narrative Short
Cast:David Zayas, Trevor Long, Thomas Ryan, Laura Koffman
Crew:Producer: Pelin Uzay - Screenwriter: Jon Haller - Editor: Filippo Conz, John Ayala - Cinematographer: Gregory Mitnick
Sales:Pelin Uzay, Producer - Zbabam Productions, NY, NY 10023 - T: 646-244-8771
Email:pelin@zbabam.com
Synopsis
Detective Ray Lorenz returns home to discover his wife sleeping with Phillip, her violin teacher. When Ray impulsively kidnaps Phillip, the two go on a journey full of surprising revelations and ultimately, redemption. Concerto is a drama about the lengths men will go in a violent world to find a moment of grace.
About the director
Filippo Conz has an MFA in film from Columbia University. His directing credits include Strani Anelli (Strange Loops), Eukiah and Decomposition d'un Meurtre. His most recent film, Tymbals was the recipient of the prestigious Sloan Foundation Production Grant. Concerto received the Hollywood Foreign Press Association Award and Caucus Foundation Production Grant and premiered at the 2009 Sundance Film Festival. Filippo Conz is a partner at Zbabam Productions, where he's developing several feature film projects.
Notes
Director Filippo Conz, Producer Pelin Uzay and Screenwriter Jon Haller will be available for Q&A after the screenings.
Related links