1/1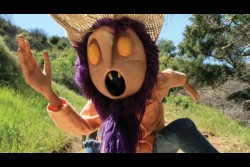 ---
I LIVE IN THE WOODS
NY Premiere
United States, 2008, 4 min
Festival Year:2009
Category:Animation
Cast:Dillon Markey, Mark Gagliardi
Crew:Producer: Max Winston - Screenwriter: Max Winston - Editor: Max Winston - Cinematographer: Max Winston - Original Score: Chris Votek - Sound Designer: Dominic Bisgnano
Sales:Max Winston, Director - Los Angeles, CA 90012, USA - T: 707-483-7776
Email:antimax@sonic.net
Synopsis
A Woodsman's frantic journey driven by happiness, slaughter, and a confrontation with America's God.
Trailer
About the director
Max Winston is a recent graduate from the Experimental Animation program at Calarts. He has worked abroad on feature films in Prague and the USA. In 2007 he received both the Sesame Street Fellowship grant, and the Princess Grace Award for film. His current film, "I live in the Woods" was funded by the Princess Grace Foundation, won an honorable mention at Sundance 2009, and is a student academy awards finalist. He is currently directing a short for Sesame Street.
Filmmaker's note
I Live in the Woods! Is a stopmotion animated short I made based on a four - page comic I created while attending the Experimental Animation program at CalArts. While thinking of ideas for my thesis film at school, I decided to take this comic and adapt it into a film. This made the idea of creating an awesome film during my last year more realistic, since I basically already had the story and designs worked out. Then, on an extremely fortunate whim, I decided to submit this crazy idea to the Princess Grace Foundation, to see if they would fund it. I had somewhat complex ideas for this film, and to do them with my own money would have been... difficult. The day I heard that they chose to give me the grant for my film was the day I knew it would turn out how I imagined it.
Related links