1/1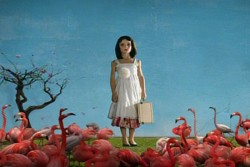 ---
VIOLA: The Traveling Rooms of a Little Giant
United States, 2008, 9 min
Shooting Format:HDCAM
Festival Year:2009
Category:Experimental
Cast:Christina Robinson, Dani Thorne, Erin Fleming, Jean Tanner, Zev Mcallister
Crew:Executive Producer: Sabi Lofgren - Producer: Joe Tamas - Screenwriter: Shih-Ting Hung - Editor: Shih-Ting Hung - Cinematographer: John Harrison - Original Score: Natasha Miren, Cynthia Simonian - Sound: Chevy Chen - Compositor : Shih-Ting Hung - Production Designer : Shih-Ting Hung
Sales:Hung, Shih-Ting, director - West Hollywood, CA , 90046, USA - T: +1.213.820.0277
Email:esperanzahung@hotmail.com
Synopsis
On a stumble on slippery moss at the 4 o'clock bus stop, Seven-year-old Viola, trying to discover the world, puts solitude in her suitcase and begins her dreamy journey.
Trailer
About the director
As a Student Academy Award winner®, Shih-Ting Hung just completed her MFA from U S C Animation & Digital Arts and is known as a music video director with her distinguishable visual style. Born and raised on a fisherman's island, Pescadores, Hung went onto her fine art study at National Taiwan Normal University in Taipei, which she considers her favorite city in the world. Aside from her 2008 Student Oscar winning film "Viola : the Traveling Rooms of a Little Giant" and several music video awards in Taiwan, she has also been broadly involved in numerous film productions as a production designer and an art director.
Notes
Director Shih-Ting Hung will be available for Q&A after the June 10th screening.
Related links