1/1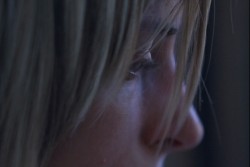 ---
SMALL COLLECTION
NY Premiere
Director: Jeremiah Crowell
United States, 2008, 6 min
Shooting Format:35mm
Festival Year:2009
Category:Narrative Short
Cast:Amy Korb, Chris Stack
Crew:Executive Producer: David Cohen - Producer: Andrew Brotzman - Screenwriter: Jeremiah Crowell - Editor: Christopher Dillon - Cinematographer: Adam Feinstein - Original Score: Jonathan Coulton - Sound: Mike Barrett and Alex Sullivan
Sales:Jeremiah Crowell, Director/Producer - New York, NY 10013 - T: 917-756-9538
Email:jc@jeremiahcrowell.com
Synopsis
A different kind of love story - unfolding not in real time, but in the corridors of memory. The lovers' faces are never seen, only their voices heard. We come to know them through fragments of everyday conversations - which echo in the empty places where once they met, fought, and loved. From their intoxicating first encounter on a Brooklyn subway platform, into the highs and lows of maturing love - we follow them as their two lives intertwine. And we stand beside them as they face a final, startling turn events.
About the director
San Francisco born, Brooklyn-dwelling director Jeremiah Crowell is at home in the narrative, commercial and documentary realms. As half of the directing duo Lucas Blank, Jeremiah has directed and shot commercials for a wide range of clients including Subaru, Samsung, NASCAR, Lipton, ABC, and Volvo. He is currently directing Marketbound, a feature-length documentary that examines the effects of international trade practices on Cambodia's rural poor. He is also an established director of photography and was nominated for an Emmy Award in 2006. Small Collection is Jeremiah's narrative directorial debut and has previously played at Sundance, Palm Springs Shortsfest, Woodstock and Raindance (UK) where it was nominated for Best Foreign Short.
Notes
Director Jeremiah Crowell will be available for Q&A after the screenings.
Related links