1/1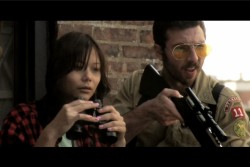 ---
THE SPOTTER
World Premiere
Cast:KK Moggie, Guy Whitney
Crew:Producer: Thomas Beug - Screenwriter: Thomas Beug and Scott Ginsberg - Editor: Edward Einhorn - Cinematographer: Kip Bogdahn - Original Score: Geremy Jasper and Chris Sanchez - Sound: Mike Lawson - Production Designer: January Vernon - Sound Mix: Hillary Martell
Sales:Thomas Beug, Director/Producer - Brooklyn, NY, 11211 - T: 3471946108
Email:thomasbeug@gmail.com
Synopsis
Set on a fire escape in Brooklyn at dawn, a boy and girl meet to perform a weekly ritual in their makeshift crow's nest. She's the spotter, he's the sniper and they're hunting alley rats. As they sip coffee in the chilly morning air and wait for activity in the alley below, they converse idly about urinals and Gouda. As the rats emerge, the hunt begins. She gives the calls and he pulls the trigger. All the while, the conversation escalates, revealing there's more at stake for both of them than the life or death of an alley rat.
Trailer
About the director
Thomas Beug is an Irish director currently based in New York City. His directing work brings together a spontaneous, real-life sensibility with an eye for beautifully composed, cinematic visuals. His last short documentary, Hangar B, won 'Best Documentary' at the Fastnet Film Festival and received a 'Critic's Pick' at the DOC NYC Festival.
Thomas Beug's filmography
Notes
Director Thomas Beug will be available for Q&A after the screenings.
Related links