1/1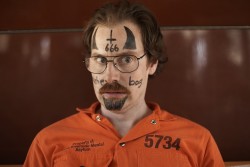 ---
YOU MIGHT AS WELL LIVE
NY Premiere
Canada, 2009, 82 min
Shooting Format:HDCAM
Festival Year:2009
Category:Narrative Feature
Crew:Producer: Jonas Bell Pasht, Ari Lantos - Screenwriter: Simon Ennis, Josh Peace - Editor: Matt Lyon - Cinematographer: Jonathan Bensimon
Sales:Deanne Sowter, Festivals - International Sales Agent - E1 Entertainment International, 175 Bloor Street East, Ste.1400 North Tower, Toronto ON M4w3r8, Canada
Email:dsowter@e1ent.com
Synopsis
Robert R. Mutt has never had it easy. His family thinks he's a retard, the neighbors think he's a pervo, and almost everyone else thinks he's a total douche bag. He's failed at everything he's ever tried to accomplish, including his own suicide. If that wasn't enough, he's just been kicked out of the only place where he's ever felt at home, the depression ward of the Riverside Mental Hospital... for being too happy. Despite all this, Robert is determined to prove that he's "a real somebody," and on the advice of his childhood hero (former local baseball hero Clinton Manitoba), he sets out to attain the three keys to success - some money, a girl, and a championship ring. This sets Robert on a madcap adventure involving a drug racket, a roller-skating transvestite, a bar-mitzvah and an air hockey tournament which leads to heartbreak and unexpected triumph.
About the director
Simon Ennis was born and raised in Toronto but came into his own in Drumheller, Alberta (the dinosaur capital of Canada). As an infant he was once held by legendary German actor Klaus Kinski - an event which most likely led to his lifelong tendency towards the extreme. Obsessed with movies and music from a very early age, Simon quickly found that his tastes in both ranged from high art to good trash while completely eschewing the mainstream middle. This, along with his tenuous relationship with reality and complete inability to take anything seriously could only mean one thing; a career making bizarre and outrageous comedies for the silver screen. And since happily dropping out of film school, Simon has been doing just that. His short films have screened at over a dozen International Film Festivals including Toronto, Los Angeles, Hawaii and Vancouver, and have aired on the Sundance and IFC channels as well as Showcase and Bravo! Television. His other credits include producing, directing and editing the music video for "River of Daughters" by the Old Soul (Universal Music/Grifter Records) which has aired on MTV stateside and on MuchMusic in Canada, as well as editing KNOW YOUR MUSHROOMS, the latest film from acclaimed documentarian Ron Mann (Comic Book Confidential, Grass).
Notes
Director Simon Ennis and co-screenwriter/ actor Josh Peace will be available for Q&A after the screening.
Related links
www.youmightaswelllivethemovie.com