1/1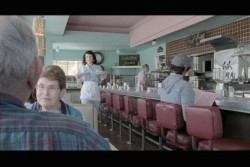 ---
GOING BACK
East Coast Premiere
United States, 2009, 11 min
Shooting Format:Super 16
Festival Year:2010
Category:Narrative Short
Cast:Lauren Glazier, Mikka Dargel, Samantha Rae Wu
Crew:Producers: Adam Keleman, John Blair - Screenwriter: Adam Keleman - Cinematographer: James Axel West - Editors: Norbert Shieh, Kathryn Panian - Sound: Andrejs Prokopenko, Denielle Rose
Sales:Adam Keleman - West Hollywood, CA 90046 - T: 818-497-1283
Email:akeleman@gmail.com
Synopsis
Lorna, a down-and-out LA model, comes back to her small, quiet home town. She holes up in a motel room while looking for work. She grabs a bite at a nearby diner. Lorna must confront the past she left behind, and the mundane existence she tried so hard to escape.
Trailer
About the director
Adam Keleman grew up in Woodland Hills, CA, where he quietly observed the niceties of the suburban way of life. In 2006, Adam graduated from UC San Diego with a degree in Film and Video production. At UCSD, he developed a passion for story-telling through film and writing. He began to hone his writing skills as the LA film correspondent for SOMA Magazine in 2007, interviewing acclaimed directors and actors including Evan Rachel Wood for "The Wrestler" and Freida Pinto for her breakthrough role in "Slumdog Millionaire". Adam has also contributed to AOL Moviefone, SLANT, ARTISTdirect, and Bunker Hill. In Spring 2009, Adam wrote, directed and produced the short film 'Going Back,' (BFF 2010). In 2011, he worked as a research assistant and transcriber on the Vito Russo documentary entitled 'Vito' for director Jeffrey Schwarz, as well as working on the production team for Ira Sachs's new film 'Keep The Lights On.' He currently resides in Brooklyn, NY, where he is developing two feature-length scripts, and just wrapped production on Adam Baran's new film 'Jackpot' as a producer.
Adam Keleman's filmography
Notes
Director Adam Keleman and actor Lauren Glazier will be available for Q&A after the screenings.
Related links