1/1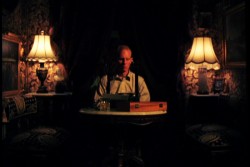 ---
EMPIRICAL
US Premiere
Director: Juan Cruz Pochat
United States, 2009, 7 min
Shooting Format:16mm
Festival Year:2010
Category:Narrative Short
Cast:Randall Mcneal, Jillian Federman, Eric Vill Springer, Firasz Akkach
Crew:Producer: Juan Cruz Pochat - Screenwriter: Juan Cruz Pochat - Editor: Juan Cruz Pochat - Cinematographer: Alexander Khudokon - Assistant Director: Ruben Mazzoleni - Assistant Camera: Firasz Akkach - Gaffer: Igor Kropotov - Sound Mixer: Michael Denaro - Dolly Grip: Christopher Fassio
Sales:Juan Cruz Pochat - NEW YORK, NY 10006, USA - T: 305-613-6044
Email:jcpochat@gmail.com
Synopsis
He enters one last time into his parlor, where his old typewriter awaits him at the end of the hall. He takes his time and walks through the obscure room. The only words that come to his mind are: 'Number of times...' trying to find meaning to all his life experiences through a certain sum of numbers. But as he gets closer and closer to the end of the list, his mind starts recalling his most sad and terrible memories.
Trailer
About the director
Born in 1986 in Buenos Aires, Argentina, Juan Cruz Pochat came to NY in 2008. At the moment Juan Cruz is in production of his new short film, "When The Shadow Falls".
Notes
Director Juan Cruz Pochat and Cinematographer Alexander Khudokon will be available for Q&A after the screenings.
Related links