1/1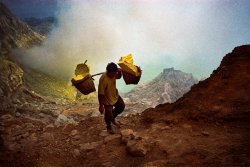 ---
DAY IN. DAY OUT.
World Premiere
Crew:Producers: Carl Valiquet - Cinematographer: Carl Valiquet - Editor: Carl Valiquet - Composer: Joshua Penman
Email:carlvaliquet@gmail.com
Synopsis
This short film is a montage of still and moving images that visually depict the laborious struggle of workers living on different islands of Indonesia. It is the study of a people that grind out a living by dint of heavy lifting. The images are edited to a minimalist piano piece by composer Joshua Penman
Trailer
About the director
During a trek in Cuba in December 2000, Carl Valiquet spent a week among a group of young Cuban boxers. He emerged from this voyage with a series of black & white images to which he added Havana's urban sounds. The result of which is a short film titled: "El Ring". After this experience Carl Valiquet, an advertising and travel photographer since the early 80's, began creating films using a combination of still images and moving images. Carl Valiquet was born in 1946 in Montreal, Canada.
Carl Valiquet's filmography
Related links