1/1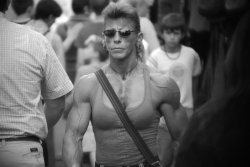 ---
STRANGER
(Etrangère)
US Premiere
Director: Christophe Hermans
Belgium, 2010, 12 min
Shooting Format:DigiBeta
Festival Year:2011
Category:Documentary Short
Cast:Sophie Jamoulle
Crew:Producers: Angeles Hernandez, Pascal Degrune - Cinematographer: Romain Ferrand - Editor: Joel Mann
Email:angeleshernandez@mail.be
Synopsis
Sophie lives alone. She spends her time between small jobs and moving ...flats. She creates sculptures of her body to fill the empty space of her life.
About the director
Christophe Hermans (1982) is a film school graduate of the Institut des Arts de Diffusion of Louvain-la-Neuve, Belgium. Since graduating in 2006 Christophe has directed numerous short and documentary films.
Filmmaker's note
At the age of thirteen, I started body-building with the clear goal of changing my own body. I wanted to be different… and I wanted other people to perceive me differently. Did I hide some vague unease? Or was it simply an urge ? I've filmed Sophie just as I would have filmed myself, which is to say through her silences, her pauses, her everyday life. I've filmed only what she's wanted me to record. I've made this film because Sophie is unique and I've recognized myself in her. I decided to take on the role of an observer, so wishing to discover her.
Related links