1/1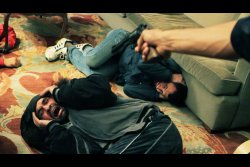 ---
GOWANUS 83
World Premiere
United States, 2011, 11 min
Shooting Format:DVCPro HD
Festival Year:2011
Category:Narrative Short
Cast:Damyir Shuford, Eden Marryshow, Jesse Wakeman, Franklin Ojeda Smith, Jean-Francois Ines Ogoubiy, Khadim Diop, Christopher Hemmings, Elom Ketosugbo, Kwami Ketosugbo, Angad Bhai, Celester Rich, James Holloway, Tyler Fischer
Crew:Producers: Michael Wood - Screenwriters: Chris Arp - Cinematographer: Joey Kuhn - Editor: Michael Wood
Email:michael.e.wood@gmail.com
Synopsis
Ex-con Dame wants nothing more than to leave behind his life of crime. But when he gets into Gowanus Taxi Cab 83, he finds himself in a world of kidnapped Sikhs, Jewish cops, the Black Mafia,a rifle-toting-Oprah-loving drug dealer, and two of the dumbest criminals in Brooklyn. Will Dame have to revert to his old ways in order to save himself in this ridiculous comedy of errors?
Trailer
About the director
Michael E. Wood spent his childhood building robots and playing bike tag in the streets of Brooklyn. He went on to study Mechanical and Aerospace Engineering at Princeton University where his senior thesis, "Camera Stabilization with a Stewart Platform", won the Enoch J. Durbin prize in engineering innovation. After graduating from college, Mike decided to move back home to Brooklyn to pursue his passion for filmmaking. Mike has worked in the film industry for the last 4 years as a freelance videographer, commercial PA, editor for a commercial production company, and as an intern for Spike Lee's production company, 40 Acres and a Mule. Mike is currently pursuing a master's degree from New York University's Tisch School of the Arts where he has written and directed 6 short films, including his latest, 'Cross Your Heart' and 'Gowanus 83'. He's currently developing his thesis film, a feature length comedy.
Notes
Director Michael Wood will be available for Q&A after the screening.
Related links