1/1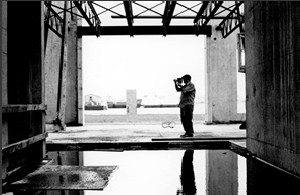 ---
THE MAN WITH A DV CAM
East Coast Premiere
Director: Mike Hawley & Justin Adam
Canada, 2001, 10 min
Shooting Format:MiniDV
Festival Year:2002
Category:Experimental
Cast:James O' Sullivan
Crew:Producer, Screenwriter, Editor, Cinematographer, Score: Mike Hawley & Justin Adam
Sales:Starwipe Entertainment, 5478 West Vista Crt., West Vancouver, B.C., Canada, V7W 3G8 - T: (604) 925.5751 - F: (604) 836.1285
Email:starwipe@shaw.ca
Synopsis
Lindsay Farnsworth is a film poet who has just acquired his first Digital Video camera. Lindsay sees this camera as a window of opportunity in his quest to show the world his new vision. However hard it may be for Lindsay to break away from celluloid, he does so with immense success, hence the title; The Man with A DV Cam.
About the director
Mike Hawley chose a career in film when he discovered he could get a better grade at school by shooting a video on the subject instead of writing an essay. He has always been amazed with power of film, especially when presented with music: It is filled with and can deliver all emotions. Hawley went to Vancouver Film School and since been working as an independent filmmaker directing various shorts over the past three years.
Justin Adam After 5 years of travelling the US playing professional baseball in the Kansas City Royals farm system, Justin Adam decided to shift his focus to filmmaking, something he had been studying in University each offseason. Upon graduation from the University of Windsor in Ontario, where he was born and raised, Adam moved to the West Coast to continue his film training at Vancouver Film School. He has spent the past two years working as an independent-filmmaker-hobbyist, and has participated in the production of over a dozen short films and videos as a writer/director, cinematographer and editor. In addition, Adam has extensive work as a self-made musician, including musical scores for a number of independant productions, the most recent being The Man with a DV Cam.
Related links