1/1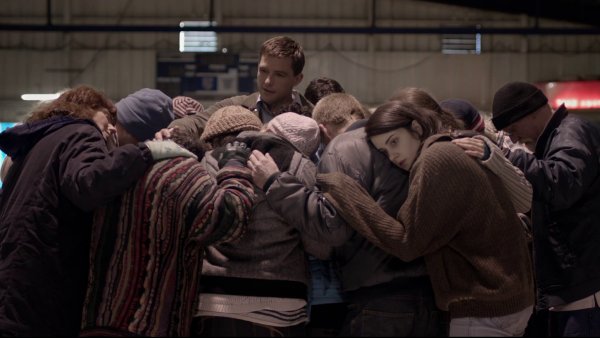 ---
THE KINGDOM OF DOUG
East Coast Premiere
Director: Victoria Thaine
Cast:Daniel Frederiksen, Laura Wheelwright, Louise Siversen
Crew:Producers: Naomi Mulholland - Screenwriters: Victoria Thaine - Cinematographer: Edward Goldner - Editor: Annabelle Johnson - Composer: J. David Franzke
Email:victoria@cloudberryfilms.com
Synopsis
Josie and her fellow cult members have gathered in an ice skating rink to commit mass suicide. But when Josie loses faith in Doug, her charismatic cult leader, she starts questioning their choice to die.
Trailer
About the director
Victoria Thaine is well known in the Australian industry as an actor with a decade of experience on Australian film and TV. In 2008 she was nominated for a Silver Logie for Best Actress in a television series for her lead role on ABC's Rainshadow. She was also nominated for a Film Critic's Circle award for Best Actress for her lead role in the feature film The Caterpillar Wish. She has appeared in over a dozen television shows including Miss Fisher Murder Mysteries, Dr Blake Mysteries, Rush, Rake and Wilfred, Her feature film roles include support roles in Gone, Son of the Mask, 48 Shades, The Night we called it a Day and The Loved Ones which won the Audience Award at Toronto Film Festival in 2009. The Kingdom of Doug is her directorial debut.
Filmmaker's note
There is a popular view that if you join a cult you must have something wrong with you. In truth, it is middle class, intelligent people who are most likely to find themselves victims of these abusive organizations. No-one chooses to join a cult, just like people don't choose to be victims of domestic abuse or addicted to drugs. This is what is at the core of The Kingdom of Doug. We want you to see how Doug can get you so easily in his crosshairs, and then, before you know it, you're in a place you never expected to be. And, at the end of the day, it's about someone in an oppressive situation who's found the courage to take control of their life. That's something I hope almost all of us can relate to in some way.
Related links