1/1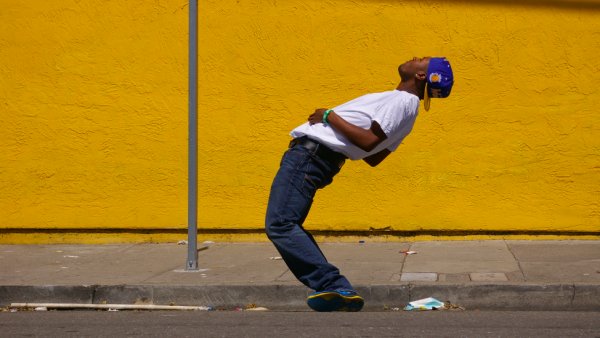 ---
MILKIN' IT
US Premiere
United States, 2012, 4 min
Shooting Format:HDV
Festival Year:2013
Category:Experimental
Crew:Producer: Astrid Edwards - Cinematographer: Astrid Edwards - Editor: Phil Currie
Email:rockmotherfilms@gmail.com
Synopsis
This music film is essentially about community and draws reference from the old school hip hop vibe of the early 80's; the whole lo-fi, diy style that subsumed popular culture at the time. It was shot over 2 days in East Oakland, Ca and features turf dancing, real people doing and saying their thing. I was very much an outsider looking in and wanted to show the vibrancy and hope of a community that's so slammed with the label of 'broken'. Self-expression by any means necessary - that's the essence of hip hop and I hope very much what comes across in this film.
About the director
Astrid Edwards is an experienced TV/Film Producer/Director. She has produced over 200 music videos, commercials, documentary series, longform entertainment progs and short films working worldwide with award-winning international UK/US Directors. Astrid exec'd 90 climate change-themed films for Live Earth 2007 that were broadcast to 60 countries simultaneously, 20 of which opened Tribeca Film Festival the same year. She has also commissioned and exec'd ten documentary films on the theme of 'home' for Sony. Very recently she has directed a music video for UK band Cornershop screened at London Short Film Festival 2013 and also took Award of Merit at Indie Fest 2012 with her documentary short We Are Family. She currently has a feature length transmedia fiction doc in development with Sheffield Doc Fest and a UK drama feature at finance stage.
Filmmaker's note
When I heard Milkin' It for the first time I had a million images running through my head. I thought about it for a while and ended up reminiscing big time about the early days of hip hop. As a 12-14 year old I tripped effortlessly from disco to punk and reggae that segued nicely into funk and hip hop via new wave. This was not an accident. All of these music genres had one thing in common - real communities, creative expression via any means necessary. Milkin' It's lament to old school hip hop reminded me that this has never left me. Around the same time, I saw a link to a viral turf dance film. The whole thing blew me away. The dance was a language in itself, a tiny little slice of life on the corner in its most true form. I started researching the background to Turf Dancing and discovered that it is unique to Oakland, Ca. And then I decided - if Oakland was the catalyst then that is where the video should be shot. It wasn't easy on a shoestring budget but with a lot of focus, some rediscovered airmiles and not taking no for an answer it finally happened. You see two featured dancers in the film - Eninja and Chonkie. They are also the same two dancers that I saw originally in the viral film. They were the best I had seen so I decided to track them down. It took me two months and it was not easy. In fact I only finally got hold of them 2 days before I actually shot. The most important thing for me was that they trusted me - this is what took the time. I had always intended the film to have a documentary approach to it (a) because I couldn't imagine doing it any other way and (b) because turf dancing is about so much more than just dancing. In saying that I could never have quite predicted what we ended up with. I met some serious characters along the way, did some things, had a few moments. I was taken for a cop by ex-Black Panther 'Ray P-Funk', who insisted on frisking me a little too vigorously during our conversation. He was worried I had a gun. To be truthful I was more worried he had a gun as he was a little volatile and pretty high. Ray opens the film. I stopped by an impromptu eviction protest. As a favour I agreed to film the residents' story. It all unfolded before my eyes. I recorded some very poignant interviews. One of those was with Gordon who was on his way to hospital in his wheelchair. He had recently become homeless, had pneumonia and diabetes and was living in a bus shelter. He came out to support the residents on his way to hospital. He was hoping that they wouldn't amputate his foot and was still mentally struggling after having the first one amputated a few months before. I gave Gordon a big hug as I left. I knew I would never see him again. 'I'll be around somewhere' he said as he looked to the sky. I knew exactly what he meant. I often think of him. You will see Gordon in the film. The streets are eerily quiet - no one's around, no one goes out - and by the second day I was beginning to understand why. The walls are covered in RIP murals to dead children: kids and young people who have been gunned down whether deliberately or via crossfire. There was a double shooting by my hotel the night I arrived but I felt safest on the 'roughest blocks'. I was considered 'a neutral' ie: I wasn't a cop or someone who was selling drugs on someone else's patch. I honestly do believe and know people looked out for me. The community was amazing.
Related links