1/1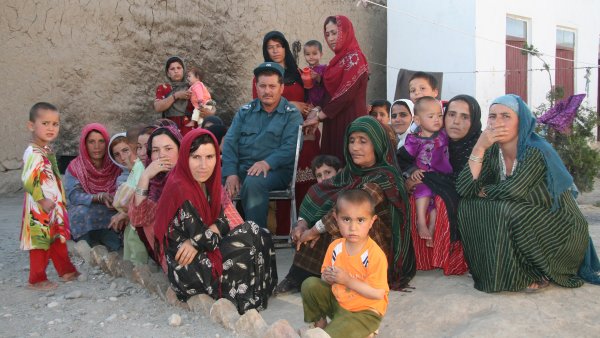 ---
NO BURQAS BEHIND BARS
East Coast Premiere
Director: Nima Sarvestani
WINNER: Best Feature Documentary
Crew:Producers: Maryam Ebrahimi - Cinematographer: Rozette Ghaderi - Editor: Jesper Osmund
Email:farima@nimafilmsweden.com
Synopsis
Takhar Prison. 40 women. 34 children. Four cells. No burqas. This documentary takes viewers inside one of the world's most restricted environments: an Afghan women's prison. Through the prisoners' own stories, it explore how 'moral crimes' are used to control women in post-Taliban Afghanistan, a society where women are normally faceless. Outside the home, burqas cover them from head to toe, completely masking their identity, rendering them nearly invisible and voiceless. Except when they are in prison, where they have nothing left to lose. Sima, married at ten, with five children by the time she was 20 years old, is locked away together with her children for 15 years. Her crime? Fleeing from an abusive husband who had already murdered one of his other wive's and their child. Sara, locked away because she fell in love. Najibeh, Latife, and many more names - they all carry stories that are a testament to the inner strength and dignity of women faced with harsh living conditions.
Trailer
About the director
Award winning director Nima Sarvestani started his career as a journalist in Iran and has been concentrating on documentary filmmaking since moving to Sweden in 1984. Exploring social and political issues, he is inspired by those who fight passionately for their cause. His filmmaking is focused on Middle Eastern countries and he has produced several documentaries, mostly about people with unique lifestyles and special world views, fighting for their rights. He currently lives in Stockholm.
Filmmaker's note
My journeys to Afghanistan and having had the opportunity to meet the country's women have opened my eyes to the unbending power that is hidden underneath the burqa. Young girls and women who run away from their male owners are aware of the risk it entails. Yet, they invest their lives in order to achieve freedom. These women are often illiterate and have never heard of human rights or emancipation. Still, they act against the cruelty they are suffering. They do this in a way that signifies how important their self-determination is for them. This is what I came to admire these women for and what I want to show the world through my films. There's an ocean of power underneath the burqa. If only the women of Afghanistan could get rid of it, and achieve a relative safety in society, this power would be released and change their lives.
Related links