1/1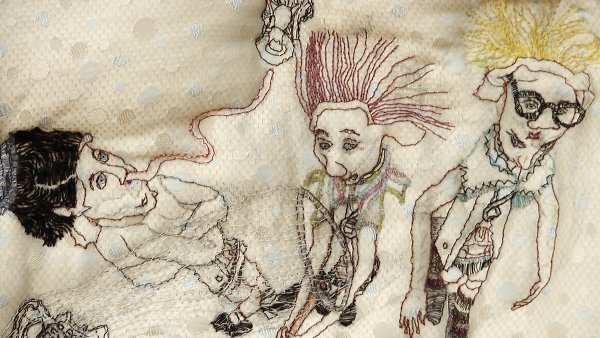 ---
HANGING BY A THREAD
NY Premiere
United States, 2013, 10 min
Festival Year:2014
Category:Animation
Crew:Producers: Catya Plate - Screenwriters: Catya Plate - Cinematographer: Catya Plate - Editor: Todd Aven - Composer: Kevin Bartlett
Email:catya@catyaplate.com
Synopsis
It's the future, and humanity appears to be but a memory, existing only in scattered pieces. That is until a pillow's needlepoint rendering of three individuals, collectively known as the Clothespin Freaks, finds the spark of life and surfaces to fulfill their destinies, hinted at by their names (Brain Grabber, Pelvis Catcher and Foot Licker). Once aware of their purpose, the group begins assembling the remains of humanity they see all around them.
Trailer
About the director
Catya Plate, born in Barcelona, Spain, is a Brooklyn based award winning filmmaker and multidisciplinary artist. Raised in Germany, she attended the Werkkunstschule, Köln, where she completed her Fine Arts studies with a BFA before coming to New York in 1987 through a Fulbright Scholarship for post-graduate Fine Arts studies at the School of Visual Arts. She has been exhibiting regularly and internationally since the mid-1980's. Her work can be found in many public and private collections worldwide, including the Brooklyn Museum and the Museum of Modern Art Library in New York City. Articles and reviews of Plate's films, exhibition and installation projects have appeared in Film Threat, The New York Times and The Independent, among others. In 2009, she created Clothespin Freak Productions to bring her "Clothespin Freaks" characters to life through stop-motion animation short films. In 2012, her first film "The Reading", was awarded Best Animated Film at the Seattle True Independent Film Festival. Her second film "Hanging By A Thread", screened at over 22 film festivals in the US and abroad, like the Academy Award-qualifying St. Louis International Film Festival and won 9 awards. The script for "Meeting MacGuffin", the sequel of "Hanging By A Thread" and second in a trilogy of animated shorts, made it into the Quarter Finals (Top 40 Shorts) at the renowned Cinequest Screenwriting Competition in 2015. "Speaking Of Freaks", a short documentary about the making of "Meeting MacGuffin" directed by Hamad Altourah and produced by Catya Plate, was released in November 2016.
Catya Plate's filmography
Filmmaker's note
"Hanging By A Thread" is the first in a trilogy of animated short films, introducing the peculiar two-headed anthropomorphic clothespins who may save our future. The "Clothespin Freak", a two-headed figure (after all "two heads are better than one!") made of a clear clothespin and sewn pieces, is a character that I invented in 2003 in a series of drawings. The idea behind the invention of the "Clothespin Freak" was to create, in a serio-comic way, a new mythology that would serve as a coping mechanism in our angst-ridden times. Living in a world that is obsessed with technology and immortality, I have always felt the urge to produce work that reclaims the use of once-feminized materials and focuses on the small and the unassuming. "Hanging By A Thread" realizes this philosophy with clothespins, thread and fabric.
Notes
Director Catya Plate will be available for a Q&A after the screening.
Related links