1/1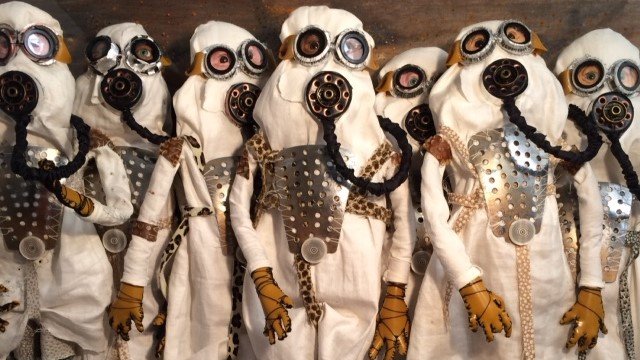 ---
MEETING MACGUFFIN
World Premiere
United States, 2017, 10 min
Shooting Format:Digital
Festival Year:2017
Category:Animation
Cast:Richard Steven Horvitz, Misty Lee, John McBride
Crew:Producers: Catya Plate, Todd Aven - Screenwriters: Catya Plate - Sound Editing, Foley, Re-recording: Matt Davies, MPSE, Rich Bussey, Kevin Hill, Jaime Horrigan - Animation: Catya Plate - DOP: Catya Plate - Music Composition, Original Score: Zac Zinger - Cinematography: Catya Plate - Script Edit: Sara McDermott Jain - Titles, Trailer: Carolyn Maher - Production Assistant: Nikko Cruz, Nadia DeLane - Intern: Maggie Boyd - Film Edit, Post Production, Consulting: Todd Aven
Email:catya@catyaplate.com
Synopsis
In a post-apocalyptic future where humanity has fallen apart, a group of scientists and an animated sign complete the construction of a new human race and meet a groundhog climatologist who prepares them for their mission to restore balance to the decimated Earth.
Trailer
About the director
Catya Plate, born in Barcelona, Spain, is a Brooklyn based award winning filmmaker and multidisciplinary artist. Raised in Germany, she attended the Werkkunstschule, Köln, where she completed her Fine Arts studies with a BFA before coming to New York in 1987 through a Fulbright Scholarship for post-graduate Fine Arts studies at the School of Visual Arts. She has been exhibiting regularly and internationally since the mid-1980's. Her work can be found in many public and private collections worldwide, including the Brooklyn Museum and the Museum of Modern Art Library in New York City. Articles and reviews of Plate's films, exhibition and installation projects have appeared in Film Threat, The New York Times and The Independent, among others. In 2009, she created Clothespin Freak Productions to bring her "Clothespin Freaks" characters to life through stop-motion animation short films. In 2012, her first film "The Reading", was awarded Best Animated Film at the Seattle True Independent Film Festival. Her second film "Hanging By A Thread", screened at over 22 film festivals in the US and abroad, like the Academy Award-qualifying St. Louis International Film Festival and won 9 awards. The script for "Meeting MacGuffin", the sequel of "Hanging By A Thread" and second in a trilogy of animated shorts, made it into the Quarter Finals (Top 40 Shorts) at the renowned Cinequest Screenwriting Competition in 2015. "Speaking Of Freaks", a short documentary about the making of "Meeting MacGuffin" directed by Hamad Altourah and produced by Catya Plate, was released in November 2016.
Catya Plate's filmography
Filmmaker's note
Catya Plate is a multidisciplinary artist, whose work relates to feminism in its focus on conventional domestic and low-tech items like clothespins and through the usage of feminized materials like thread and fabric. In her sculptures, installations, paintings, and drawings, she has been referring to concepts such as mortality, ambiguity, transformation or vulnerability to talk about the ephemeral nature of existence, questioning certain aspects of the human condition. All aspects of her previous works appear in her animated films within the context of a larger fabricated universe. This futuristic universe depicts a new mythology where the animal and the mineral appear interconnected in surreal, surprising, as well as disturbing and humorous ways. In the center of this mythology are two-headed mutations called 'Clothespin Freaks', which are figures made of clear clothespins and sewn pieces. These 'other-worldly scientists' are responsible for the reconstruction of a new human race. The new genetically modified human (Homey) is empathetic and altruistic because the necessity of biological transformation for the greater good of the world requires a gaze that goes beyond the anthropocentric.
Notes
Director CATYA PLATE will be participating in a Q&A after both screenings.
Related links