1/1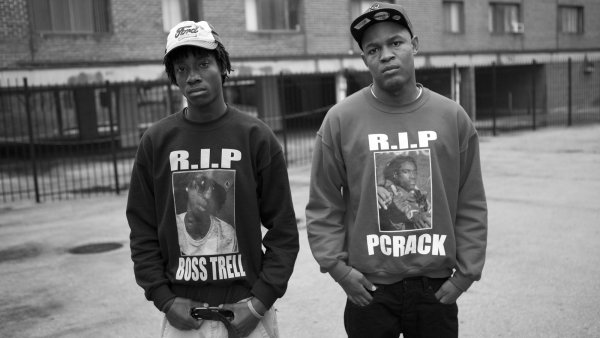 ---
CHI RAQ
East Coast Premiere
Director: Will Robson Scott
Crew:Executive Producers: William Rowe - Producers: Bridie Woodward - Editor: Luca Campanale
Email:bridie@prote.in
Synopsis
Chicago's nickname 'Chi Raq' refers to the city's epidemic of violence, where the annual homicide rate rivals the number of US soldiers killed in Iraq and where, since 2001, 2.5 times more US citizens have been killed than in the Afghanistan war zone. This film is a portrait of life in the South Side of Chicago.
Trailer
About the director
London born photographer and filmmaker Will Robson-Scott has created a body of work that focuses on people living on the fringes of society. An early immersion in the world of illegal graffiti led to the publication of two seminal books on the subject: 2009's critically acclaimed Crack & Shine and its hugely successful 2011 follow-up, Crack & Shine International, a global survey of the phenomenon produced in association with Vans Off the Wall and boasting rare photographic coverage of some of the most influential exponents of this notoriously clandestine subculture Robson-Scott's forays into film have already found wide acclaim. Having directed and shot a series of portraits focusing on idiosyncratic urban outsiders from ageing skateboarders with Aspergers Syndrome to Polish martial-arts-fighting rappers undergoing dangerous experimental eye-tattooing procedures to ex football hooligans. The most socially engaging film was "Chiraq" a look at the communities of the South and West of Chicago that have been engulfed by a epidemic of violence.
Filmmaker's note
For the past decade, Chicago has been enduring a violence epidemic, with a death toll in the thousands and casualties mirroring the losses experienced by the US army in Iraq war over the same period. Allowing its subjects to take centre stage and tell their stories in their own words, Robson-Scott's film is unflinchingly honest in its depiction of life on the streets of one of the most dangerous cities in America.
Notes
Director Will Robson-Scott will be available for a Q&A after the screening.
Related links