1/1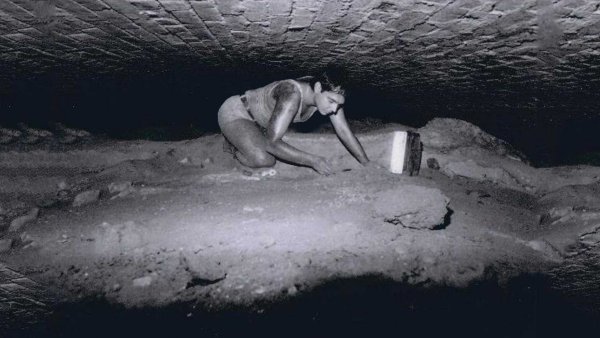 ---
TUNNEL VISION
World Premiere
Director: Stephen Greenwood
Crew:Producer: Stephen Greenwood - Editor: John Ryan Manning - Camera: Zach Goldstein, Stephen Greenwood, John Ryan Manning, Jordan Oplinger - Editorial Journalist: Adrianne Jeffries - Editorial Direction: Thomas Houston, Laura June Topolosky - Head of Production: Kyle Kramer - Post-Production Coordinator: Regina Dellea - Rights & Clearances: Samantha Mason - Publishing Assistant: Evan Rodgers - Equipment Manager: Andrew Willis - Special Thanks: Jim Bankoff, Marty Moe, Joshua Topolsky, Nilay Patel
Email:voxfilms@voxmedia.com
Synopsis
Beneath Atlantic Avenue in Brooklyn, New York, Bob Diamond discovered the world's oldest subway tunnel. Tunnel Vision documents Diamond's incredible story and the story of the forgotten tunnel that became both his passion and his identity, until the city took it away. Diamond once gave tunnel tours to hundreds of people, becoming an urban legend like the tunnel itself. In 2010, he received a letter from the Department of Transportation revoking his franchise, saying he would be arrested if he ever stepped foot in his tunnel again. He appealed the decision, and now he waits.
About the director
Stephen Greenwood is the Associate Creative Director at Vox Media, Inc. Greenwood started at Vox Media in 2011 as a Senior Producer and founding member of Vox Media's original video studio, overseeing production of long and short form video. He has produced content for all seven of Vox Media's verticals (SB Nation, The Verge, Polygon, Racked, Eater, Curbed, and Vox.com) including Small Empires with Alexis Ohanian, features for The Verge, Polygon.com's debut series Press Reset and Vox Creative's first original, in-house advertisements . Before joining Vox Media, Greenwood worked for AOL's Gadling.com, producing travel features in some of the most remote corners of the world from Hong Kong, Mongolia, New Zealand, to El Salvador and Madagascar. A San Diego native, Greenwood graduated from UCLA's School of Theater, Film & Television in 2008 and pursues his passion for visual storytelling and engaging with fascinating people both on and off the clock.
Filmmaker's note
Moments of discovery are fascinating points in time. They can happen to anyone that is looking with intent; in one single moment, in the confirmation between fact and myth - your discovery, can change who you are and who you'll become after that second. This is what happened to Bob Diamond when a blast of cold air confirmed that he had rediscovered the world's oldest subway tunnel at age 20, in 1980. The passageway, now known as the Atlantic Avenue Tunnel in Brooklyn became Bob Diamond's life after he led the effort to uncover something that was long forgotten underneath Downtown Brooklyn's busy surface streets. The city of New York has decided to revoke Bob's access (and livelihood as a tour-guide) to the tunnel, which some consider unwarranted and unjust; but they will never be able to take away Bob's amazing discovery and his legacy as the modern explorer that unearthed the Atlantic Avenue Tunnel.
Related links