1/1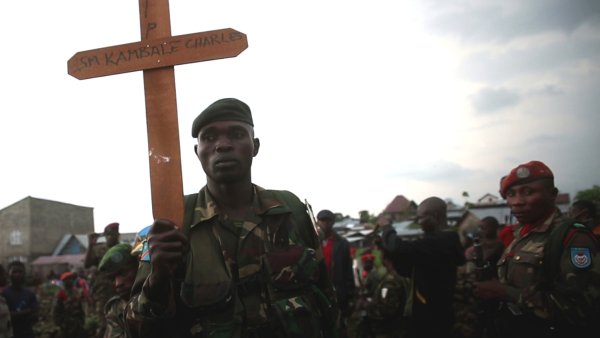 ---
COFFIN MAKER
World Premiere
Cast:Richard Mukengerwa
Crew:Producers: Theo Anthony, Simone Bazos - Cinematographer: Theo Anthony - Editor: Theo Anthony - Composer: David Bird
Email:theodorejacobanthony@gmail.com
Synopsis
Filmed throughout the Democratic Republic of Congo in the final days of a devastating three-year war, 'Coffin Maker' weaves together three separate journeys: a coffin maker in Goma, front line footage of a rebel army in retreat, and a mass funeral for military officers killed in the conflict. It is a study of death in theory, practice and consequence, and ultimately, how a culture interprets loss as justification for its future.
Trailer
About the director
Theo Anthony is an artist and filmmaker based in Baltimore, MD. Although much of his earlier work was in the music video and commercial fields, last year he moved to the Democratic Republic of Congo, where he began working as a frontline war journalist. These diverse backgrounds coalesce in his documentary work, pieces that are developed by working closely with their subjects to enable their own personal vision of self-representation. The result is an attempt at understanding through collaboration, a conversation between the representer and the represented that moves fluidly between observational realism and stylized tableau without pledging allegiance to either. "Coffin Maker" is the first in a series of short works to come out of his time in the Congo.
Notes
Director Theo Anthony and producer Simone Bazos will be available for Q&A after the screening.
Related links