1/1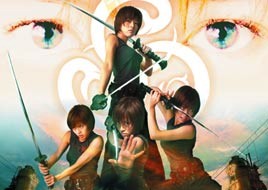 ---
THE PRINCESS BLADE
(Shurayuki Hime)
NY Premiere
Japan, 2001, 92 min
Shooting Format:35mm
Festival Year:2002
Category:Narrative Feature
Cast:Hideaki Ito, Yumiko Shaku, Shiro Sano Yoichi Numata, Kyusaku Shimada
Crew:Producer: Taka Ichise - Screenplay: Shinsuke Sato - Music: Kenji Kawai - Cinematograper: Taro Kawazu - Art Director: Tomoyuki Maruo - Sound Mixer: Kiyoshi Kakizawa - Editing: Hirohide Abe - Special Effects: Shinji Higuchi - Action Director: Donnie Yen
Sales:Anna Bechtol, Licensing Manager c/o ADV Films T: 713-341-7166 - Web: www.advfilms.com
Email:Anna@advfilms.com
Synopsis
In the near future, Japan is ruled once more by a monarchy. But, rebels opposed to this rule seek to overthrow the government. The House of Takemikazuchi, a band of assassins is hired by the government to suppress the rebels. As a conspiracy from within signals the shadowy organization's impending demise, Yuki, the last of the Takemikazuchi bloodline befriends one of the rebels and seeks revenge against the group's leader.
About the director
Sato was born in 1970 in Hiroshima and studied film at Musashino University of The Arts. His film "No Misbehavior In The Dorm" won the PFF94 Grand Prix Award. Sato's next two films, "Tsukishima Capriccio" and "Bound For The Front Gate " received very good reviews and were shown throughout Japan. A few years later, he was asked by the Japanese director, Jun Ichikawa to write scripts for three films, "Tokyo Lullaby", "Tadon to Chikuwa" and "Zawazawa ShimoKitazawa". Later he wrote the screenplay for the hit film, "Sunflower" directed by Isao Yukisada. In 2001 Sato Shinsuke made his feature directorial debut with "Love Song". "Princess Blade" is his second feature film.
Filmmaker's note
The movie is inspired by the comic book "Shurayukihime" by Kazou Koike (The Lone Wolf and Cub) and Kazou Kamimura.
Related links