Latest News: FRAME BY FRAME, 2015 edition Spirit & Audience Award winner, will have its NYC theatrical opening on Nov 20th at the IFC Center in NYC SHOWTIMES, TICKETS & INFO
1/1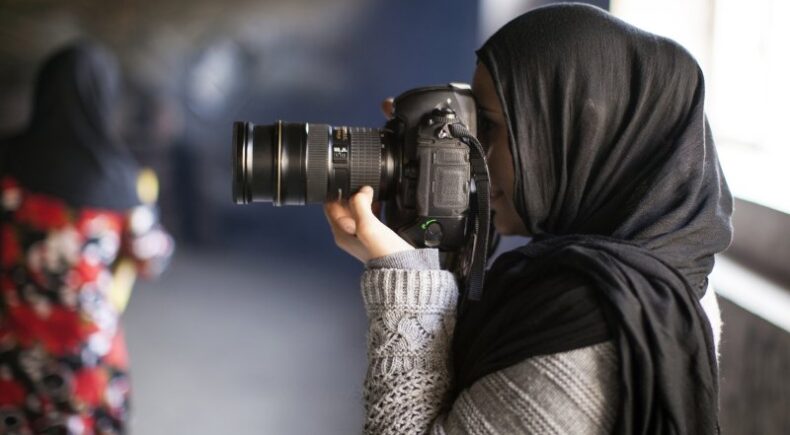 ---
FRAME BY FRAME
NY Premiere
Director: Mo Scarpelli & Alexandria Bombach
WINNER: Spirit Award and Audience Award
Crew:Executive Producers: Nancy Schafer, Louis Venezia - Producers: Alexandria Bombach, Mo Scarpelli, Jeff Orlowski - Cinematographer: Alexandria Bombach, Mo Scarpelli - Editor: Alexandria Bombach - Composer: Patrick Jonsson
Email:framebyframethefilm@gmail.com
Synopsis
When the Taliban ruled Afghanistan, taking a photo was a crime. After the regime fell from power in 2001, a fledgling free press emerged and a photography revolution was born. Now, as foreign troops and media withdraw, Afghanistan is left to stand on its own, and so are its journalists. Set in a modern Afghanistan bursting with color and character, FRAME BY FRAME follows four Afghan photojournalists as they navigate an emerging and dangerous media landscape - reframing Afghanistan for the world, and for themselves. Through cinema vérité, intimate interviews, powerful photojournalism, and never-before-seen archival footage shot in secret during the Taliban regime, the film connects audiences with four humans in the pursuit of the truth.
Trailer
About the director
Mo Scarpelli is a non-fiction filmmaker and multimedia journalist. Her curiosity of humans and her compulsion to expose the underexposed has led her to shoot in more than 15 countries around the world. Mo is the Founder and Director of Rake Films, which produces character-rich films and multimedia stories for news and non-profits. Rake's award-winning short films with non-profits have screened at the World Health Organization, the United Nations and in global health events across Africa, Asia, Europe and the U.S. As a journalist, Mo has published work with the BBC, The Wall Street Journal, Africa Review, The Huffington Post and Narrative.ly. She holds a Bachelor's in Journalism from the University of Missouri, nearly 10 years of experience filming in unfamiliar territories, and that bottle opener on her at all times doubles as a tripod key. - Alexandria Bombach is an Emmy award-winning documentary filmmaker who lives on the road. Founding her production company RED REEL in 2009, Alexandria is known to sell all of her belongings to tell a story she believes in. In 2010, Alexandria set out to film "23 FEET," a 30-minute documentary about people living a simple life in order to do what they love in the outdoors. "23 FEET" takes an in-depth look at what it means to live for your passions. The film screened at festivals in 15 countries and across the U.S. in a rogue distribution outlet: her 1970 Airstream with an outdoor theatre attached to it. Her Emmy award-winning 2012 film series, MoveShake, features real life stories and lessons of people dedicating their lives to environmental and social issues. Focusing on character-driven films, Alexandria's work is defined by her ability to get to the core of what drives passionate people to do what they do.
When and Mo landed in Kabul in 2012, they were struck by the beauty, hope and complexity of a country that is often represented as war-torn and hopeless. With collective experience shooting non-fiction stories in more than 20 countries around the world, they teamed up to raise $75,000 for the film on Kickstarter, and then returned to Afghanistan in 2013 to find more in-depth perspective of Afghanistan through the eyes of local photojournalists.
Filmmaker's note
Afghanistan is a complex and beautiful country, enriched by the nuanced lives of its people. Yet it has a reputation as a perpetually war torn region, wrought with suicide bombs, political corruption, and Islamic fundamentalism. In 2012, we traveled to Afghanistan in search of a story about perception — how and why do we form our perceptions of a country at war? And how does this intersect what is actually happening on the ground?
In Kabul, we met four incredible local photojournalists. They are deeply embedded in the past, present, and future of their country, and their own truths inform their will to take ownership of Afghanistan's story and reveal a humanness that is rarely captured by foreign media. We knew that their stories could bridge what often feels like an insurmountable divide between Afghans and Western audiences. The world is hankering for a more in-depth and honest view of life in today's Afghanistan and the issues Afghans face as they stand on their own to rebuild the country.
We also knew that this story couldn't be more timely. Right now, the future of Afghanistan is mired in uncertainty. The government has just transitioned power to a new president. U.S. security forces are pulling out, foreign media is shuttering bureaus, and aid — which helped jumpstart Afghanistan's free press movement — is dwindling. After more than 13 years of historical growth, free press stands as one of Afghanistan's most viable hopes for political and social stability. Now is the time to shed light on the realities of building free press in a country whose future may depend on it.
Related links