1/1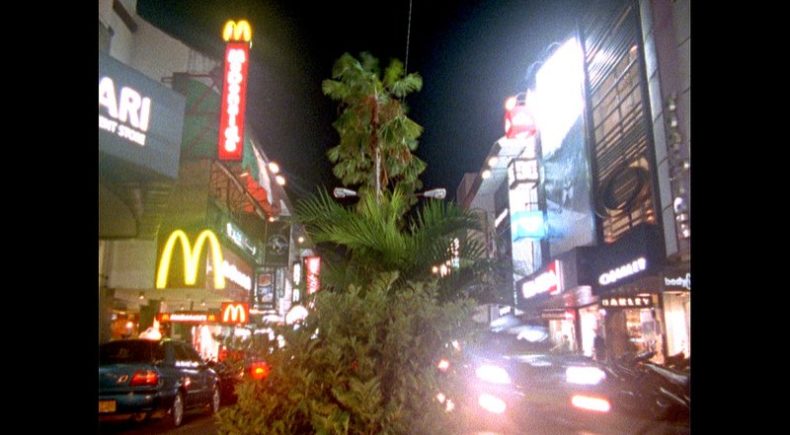 ---
DEATH SONGS & CAR BOMBS
East Coast Premiere
Director: Brendan & Jeremy Smyth
United States, 2013, 6 min
Shooting Format:16mm
Festival Year:2015
Category:Experimental
Crew:Brendan & Jeremy Smyth
Email:blacksmythfilms@gmail.com
Synopsis
Guided by a ceremonial death song, an attempt to reach the unholy sea transforms into a chaotic place study of Bali's infamous tourism district- car-bombed one year after 9/11. Osama bin Laden declared the attack to be a direct response to the United States' War on Terror. Now, a dimly-lit memorial stands amidst a sea of Western signage, and by fate, an identical Mitsubishi L300 passes ground zero as the roll flares out.
Trailer
About the director
Brendan and Jeremy Smyth are 16mm experimental documentary filmmakers who explore the globe in search of cultural oddities. Their interest in visual anthropology has sent them from Mexico to Indonesia showcasing the economic plight of workers through unique methods of storytelling. The twins' work has won multiple awards and screened at notable festivals/venues including $100 Film Festival, Anthology Film Archives, Antimatter, Atlanta, Chicago Underground, Columbus Int'l, Edinburgh Int'l, FLEXfest, Indie Grits, and Virginia. The two are the directors/programmers of the Haverhill Experimental Film Festival in Massachusetts, now in its third year. Currently, the Smyth brothers live in Durham, NC, where they curate a monthly experimental film series known as UNEXPOSED. Brendan & Jeremy are brothers.
Filmmaker's note
This film serves as a blatant rejection of economic imperialism and mainstream consumer culture spreading to third world societies- more specifically, the seemingly glamorous livelihood of the United States negatively affecting the once very humbled southeast Asia. The feeling of the sporadic, yet structured visuals captures the feeling of our experience; the order of images is precisely the order in which we filmed them without post-editing (it consists of two 16mm in-camera edits back-to-back). Shot on location for ten days mainly filming frame by frame using the single-frame function of a 16mm Bolex camera.
Related links