1/1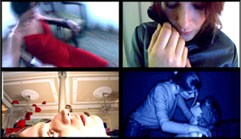 ---
HOTEL
East Coast Premiere
England, 2001, 93 min
Shooting Format:MiniDV
Festival Year:2002
Category:Narrative Feature
Cast:Max Beesley, Fabrizio Bentivoglio, Brian Bovell, Saffron Burrows, Elisabetta Cavallotti, Valentina Cervi, George DiCenzo, Andrea Di Stefano, Nicola Farron, Christopher Fulford, Valeria Golino, Jeremy Hardy, Salma Hayek, Danny Huston, Rhys Ifans, John Malkovich
Crew:Producers: Andrea Calderwood (executive), Mike Figgis, Annie Stewart (II), Lesley Stewart, Ernst Etchie Stroh - Original music: Mike Figgis, Anthony Marinelli - Cinematograper: Mike Figgis, Patrick Alexander Stewart - Casting: Celestia Fox - Production Design: Franco Fumagalli - Costume Design: Catherine Buyse Dian
Sales:Michael Grant c/o Moonstone Entertainment - T: 818-985-3003 - F: 818-985-3009
Email:mgrant@moonstonefilms.com
Synopsis
In February of this year Mike Figgis travelled to the Island of Lido di Venezia in the Venetian Lagoon accompanied by a cast of over 30 actors including David Schwimmer, Rhys Ifans, Salma Hayek, Burt Reynolds, Lucy Liu, Saffron Burrows and Max Beesley. They were to play the guests and staff of a Hotel. All they had was the briefest of character outlines. None of them had a script, in fact, there was no script... For five weeks, the group lived, improvised and filmed under one roof. Out of their improvisations came Hotel.
About the director
Figgis has emerged as a visionary filmmaker who thrives on taking risks. Figgis has roots in experimental theatre and music, which are just two primary influences that contribute to the creative vision in all of his feature films and documentaries. Although he has been at the helm of such "mainstream" movies as Internal Affairs with Richard Gere, the British born filmmaker has exhibited his more eclectic personal style in such films as Stormy Monday and Liebestraum.
In 1996 Figgis achieved international critical acclaim for his film Leaving Las Vegas, starring Nicolas Cage and Elisabeth Shue, which he wrote, directed and scored. The film was nominated for four Academy Awards, and Nicolas Cage won Best Actor for his portrayal of the alcoholic screenwriter Ben Sanderson.
Related links