1/1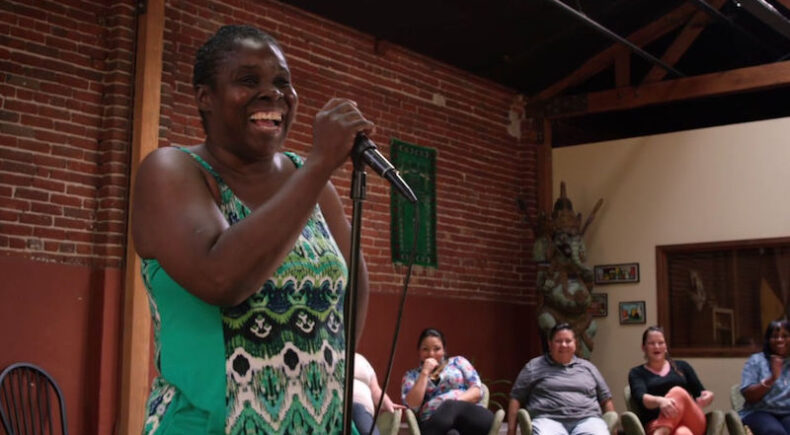 ---
FREE TO LAUGH
East Coast Premiere
United States, 2015, 15 min
Shooting Format:RED
Festival Year:2016
Category:Documentary Short
Crew:Producer: Elease Lui Stemp - Executive Producers: Edward Tighe, Louie Schwartzberg - Associate Producers: Samantha Jacks & Gerry Katzman & Teresa Bacigalupi - Cinematographer: Alex Falk - Editor: Sari Tracht - Composer: Daniel Walter
Email:freetolaughfilm@gmail.com
Synopsis
Free to Laugh is a short doc about the power of comedy after prison.
Trailer
About the director
Lara Everly is a director, writer and actress. Lara first honed her storytelling chops acting and her affinity for comedy and improv has lead to film and sitcom work as well as sketch and improvised TV shows. Her directorial debut, Me, You, A Bag & Bamboo, was awarded Best Family Film at the Canada International Film Festival and won the Viewer's Choice award at the Ovation Short Film Contest, which led to a televised screening of the film. Me, You, A Bag & Bamboo is being distributed through Shorts International and is available on iTunes. Lara's other short films have played the film festival circuit, won awards and procured distribution, such as Pink Sweat, distributed through Snag Films and OowieWanna, an award--winning short from the AFI Directing Workshop for Women. She loves directing sketches and web series partnering with companies like FunnyorDie, Comediva and College Humor. She is currently directing a bi-monthly web series for PopularTV called The Queue and is in the process of releasing Love Handles, a female-centric comedy series featured on FunnyorDie. Lara just wrapped a pilot musical comedy pilot entitled The Patriettes. Lara earned a Bachelor's Degree in Theater from Wesleyan University (CT) and is a graduate of Upright Citizen's Brigade.
Filmmaker's note
I believe the best documentary stories are not the ones in the light asking to be told, but rather the stories lurking in the shadows that need to be revealed. This is one of those. The voice of incarcerated is definitely a quiet and unfamiliar one. Workshops like the one we created help with rehabilitation outside of prison and reduce recidivism. Through creativity and imagination, the women we're able to express a range of emotions, connect with others, empathize and mentally release themselves. There is no wrong answer in comedy and the freedom catapulted these women who suffer from a hard past into the present. Simply put, humor heals. Culturally, we've been dancing around the subject matter with shows like "Orange is the New Black" and "Jeff Ross Roasts Criminals". While the content is indeed topical, where is the authentic and true voice of incarcerated and formerly incarcerated women? It's something that remains to be heard. With the help of non-profits, there are more creative workshops with positive and uplifting results, but rarely, if ever, are they filmed. Free to Laugh is a short doc about the power of comedy post-prison, helping make a community that's largely invisible visible.
Notes
Director Lara Everly and Producer Elease Lui Stemp will be available for a Q&A following both the June 4 and June 5 screenings at Wythe Hotel.
Related links