1/1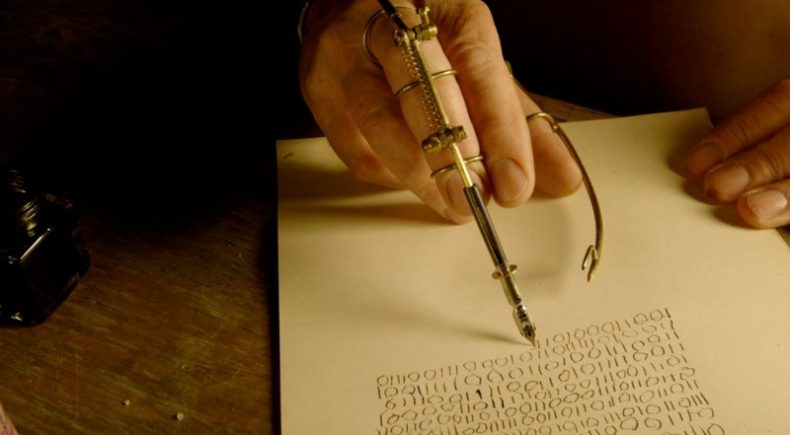 ---
#MEAT
World Premiere
Director: Marc van den Broek
Germany, 2016, 7 min
Shooting Format:HDV
Festival Year:2016
Category:Experimental
Crew:Producer & Cast: Marc J. M. van den Broek - Camera: Meinolf Schmitz - Editor: Jörn Falldorf - Sound Design: Stephan Höfler - Postproduction/Postproduktion: Optical Art Digital & Film
Email:edition@marcvandenbroek.de
Synopsis
#MEAT distills a hundred years of human inventiveness and arrives at a wordless digital dystopia that's as inescapable as man's thirst for knowledge and power.Shot as a series of fragments by Belgian-born artist and sculptor Marc van den Broek, this six-minute art film resembles a retrofitted tale of Faust.Essential elements of humanity - the written word, the human body, music - are clasped and reduced to mechanical function by van den Broek's eerily beautiful sculptural restraints, strapped first onto a hand, a leg, head, finally an entire body. Hooks and eyes in the bowels of a warehouse reflect a fragment of binary script and double up as industrialization's invitation to mass consumption. Ancient song lines metamorphose into the hum of drones. When a pallid body slams foetus-like onto a concrete slab, #MEAT conjures a global and a personal Abu Ghraib. Van den Broek's thesis is that the age of Renaissance is over, the promise of individualism depleted and humanity holding on by a slender thread.#MEAT provides no easy conclusions or answers.
About the director
Marc van den Broek - Marc Jozef Margareta van den Broek was born 1953 in Mortsel-Antwerp and is a Belgian artist. In the early 1980s, he focused largely on spatial installations based on a symbiosis of art and technology: the flying objects known as mutants. He began developing works of kinetic art, culminating in the Archaic-Technological-Metamorphosis (A.TE.M.) in 1987-1989. A.TE.M. is the manifest expression of his overall intellectual and spiritual concept: The archaic is represented by the basic forms (sphere, cube and pyramid); the technological aspect is the principle underlying the construction of the objects, and metamorphosis is realized in the movements of the objects. Inspired by intensive, long-term cooperation with leading industrial and commercial firms, he developed the project entitled "The Work of Art in Corporations". He continued to pursue his art in New York (1998-2008), where he worked with numerous well-known companies. #MEAT is the first film of Marc van den Broek.
Notes
Director Marc J. M. van den Broek will be available for a Q&A following both the June 5 screening at Wythe Hotel and the June 11 screening at Windmill Studios.
Related links