1/1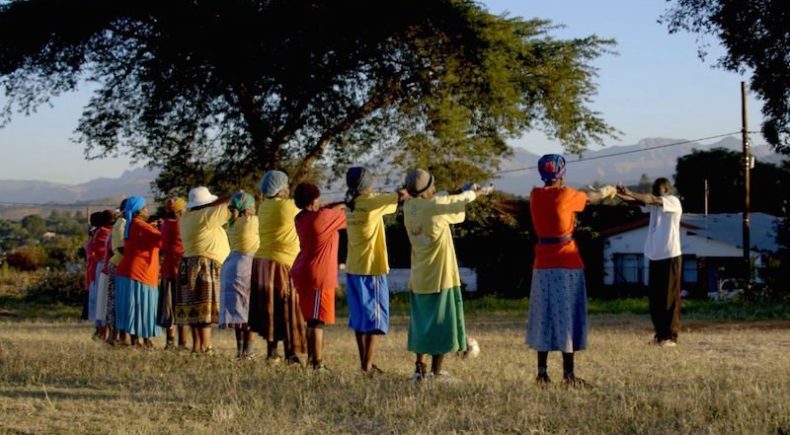 ---
ALIVE & KICKING: THE SOCCER GRANNIES OF SOUTH AFRICA
Brooklyn Premiere
Director: Lara-Ann de Wet
United States, 2015, 20 min
Shooting Format:Canon C300, 5D
Festival Year:2016
Category:Documentary Short
Cast:Vhakegula Vhakegula , Beka Ntsanwisi
Crew:Producers: Lara-Ann de Wet
Email:lara.ann.de.wet@gmail.com
Synopsis
Filmed in the heart of Limpopo, South Africa the village grannies "Vhakegula Vhakegula" lace up their soccer boots and start kicking their way through centuries of taboos. Through their camaraderie on the field they play serious soccer then break into laughter and song as they wage a singular fight for a decent life, true health and a snatch at joy in a brutal world.
Trailer
About the director
South African born and raised, Lara-Ann de Wet is a freelance documentary filmmaker based in Brooklyn, New York. Having graduated from New York Film Academy in September 2015, she has recently won a Jury Prize for "Spirited Storytelling" as part of the inaugural Doc NYC U Competition at the prestigious Doc NYC Film Festival. Prior to her career in filmmaking she obtained a 1st Class Masters in International Business at Edinburgh University with emphasis on Social Entrepreneurship in South Africa being the focus of her dissertation. Upon graduation, she sought a slightly more creative field of work, holding the role of a Account Manager at a Global Brand Consultancy based in London for 3 years. Whilst stimulated by the visual expression of brands, she sought a more holistic and philanthropic means of storytelling being documentary filmmaking. Whilst having experience in cinematography her predominant focus is on story producing and editing and in the future plans to further her career as a director on films that will surprise and shine light on African culture.
Notes
Director Lara-Ann de Wet will be available for a Q&A following both the June 4 and June 5 screenings at Wythe Hotel.
Related links