1/1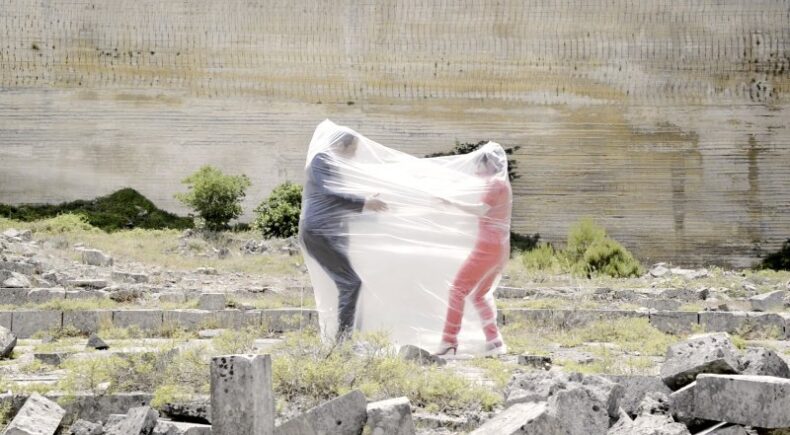 ---
FREEDOM-TO GO!
East Coast Premiere
Director: Ingrid Nachstern
Ireland, 2015, 9 min
Shooting Format:Digital
Festival Year:2016
Category:Experimental
Cast:Ingrid Nachstern, Lucia Kickham, Michael Cooney, Luca Truffarelli, Michele Ragni, Alexander Balanescu, Gabriele Paperini, Miriam Duffy, Emma Downey, Alison Finn, Stefano Baldinelli
Crew:Director, Choreographer, Script: Ingrid Nachstern - Videographer: Luca Truffarelli - Videographer Assistant: Michele Ragni - Music Composer: Alexander Balanescu - Music Performers: The Balanescu Quartet - Sound: Gabriele Paperini - Titleist: Stefano Baldinelli - Wardrobe: Alison Finn (Ms Kickham's blouse), Emma Downey (Mermaid costume) - Location Manager: Miriam Duffy - Produced in Ireland and filmed on location in Matera, Italy
Email:nightstardancecompany@gmail.com
Synopsis
Freedom-to go! is a commentary on present day USA, in verse form. It comments on child beauty pageants, war, sex and celebrity culture
Trailer
About the director
Ingrid Nachstern is the Artistic Director of her dance company Night Star Dance Company.She has createdd 14 works for it. Ingrid has performed at DTW in New York (her solo 'Who Am I?'):in Steve Paxton's works 'Satisfyin' Lover' and 'State' at MoMA in 2012 (latter was the Best of Dance 2012 in Time Out/New York);with Buglisi Dance Theatre's Table of Silence,Lincoln Centre 2013.Her dance film Table Manners/Stopping at Red Lights was screened at American Dance Festival's 2015 Screendance Festival in Durham,North Carolina:it was nominated for Best Irish Screendance film at Light Moves Limerick,Ireland 2014.It was made with Luca Truffarelli,videographer and awarded a Best Editing Award in Modica,Sicily in 2015 and a Silver Screen Award at the Nevada International Film Festival also in 2015.Her second dance film Freedom-to go!(with Truffarelli) was screened at the Athens International Film and Video Festival in Athens,Ohio in 2016. Table Manners/Stopping at Red Lights was awarded an Accolade Global Film Competition Award (Recognition Award-Film Short) in 2015 and also a Best Shorts Award. Freedom-to go! was awarded two IndieFEST Awards in 2016 (Merit-Experimental and Recognition Award-Film Short).It was also the Audience Award Winner at the Brooklyn Film Festival in 2016. Shoe Horn/Office has been given an IndieFEST Award in California and a Best Shorts Award.It was also a Remi Winner at the 51st Annual Worldfest-Houston International Film Festival in 2018.
Ingrid Nachstern's filmography
Notes
Director Ingrid Nachstern will be available for Q&A following both the June 4 screening at Windmill Studios and the June 12 screening at Wythe Hotel.
Related links