1/1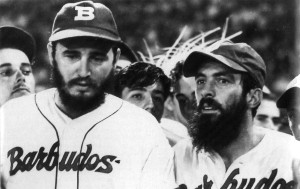 ---
BÈISBOL
(Baseball)
US Premiere
Director: Antonio Cavallini & Giovanni Giommi
Cast:Edel Casas, Urbano Gonzales, Braudillo Vinent, Antonio Pacheco, Miguel Cuevas, Conrado Marrero, Luis Giraldo Casanova, Gabriel Pierre, Omar Linares
Crew:Cinematographer: Antonio Cavallini, Giovanni Giommi, Andrea Beck Peccoz - Editing: Antonio Cavallini, Giovanni Giommi, Massimo Salvucci - Production: Antonio Cavallini, via Tortona 19, 20144 Milano, Italia, tel. +39-02-58102106, e: zucane@tiscalinet.it or giommi.giovanni@mtvne.com
Sales:Paolo Ansaldi c/o Harold, Milan, Italy - T: +39 02 89013514
Email:haroldro@tin.it
Synopsis
BEISBOL - PERSONALITIES AND PIECES OF THE 39TH CUBAN NATIONAL CHAMPIONSHIP SEASON
During the 40th anniversary of the decision of "Fatherland or death" takes place the 39th national cuban series of Baseball. Through the voices of young and old players and fragments of the final games appears the "state of health" of baseball in Cuba. The caribbean island is in the middle of international controversy and social-political contraddictions since more then one hundred years. Baseball plays an important role and reflects the state of the island with its 10.000.000 population, proud patriots and at the same time men and women tired of forty years of revolutionary resistance. The film is divided in different sections and takes place beetwen Havana, Santiago and Pinar del Rio, where the final games of the series have taken place.
About the director
Antonio Cavallini: (Milan, 1968) graduated from the City Film School of Milan in 1993. Giovanni Giommi: (Milan, 1965), a university graduate in architecture, has constantly worked in television programming, first for Telepiu and then for MTV Italia. He wrote the film story for Sol y sombra, a documentary directed by Francesca D'Aloja.
Filmmaker's note
"Cuba is a nation where the game of baseball occupies a paramount position while it reflects the conditions of ten million men and woman who are proud to belong to their country but also fatigued by more than 40 years of revolutionary resistance" (Antonio Cavallini, Giovanni Giommi).
Related links