1/1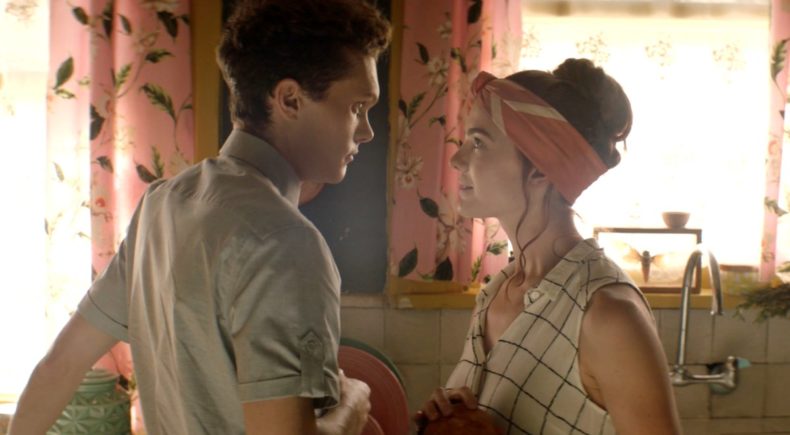 ---
WASTE
NY Premiere
Director: Justine Raczkiewicz
United States, 2016, 15 min
Shooting Format:2K
Festival Year:2017
Category:Narrative Short
Cast:Luke Baines, Sarah Bartholomew
Crew:Executive Producers: Constanza Castro, Joanna Raczkiewicz - Producers: Justine Raczkiewicz, Domenica Castro - Screenwriters: Justine Raczkiewicz - Cinematographer: Martim Vian - Editor: Oliver Harwood - Composer: Lucas Lechowski
Email:justyna.cinema@gmail.com
Synopsis
Roger lives a grim and detached life, picking up medical waste for a living, but looks forward to his evening conversations with his quirky roommate and foodie, Olive. But as the meals become increasingly strange, and push the limits of curiosity, Roger must ask himself how far he will go for love?
About the director
Justine Raczkiewicz's career in film began in production at The Weinstein Company, where worked on a number of award-winning films. She continued on to produce and work alongside director, Alexandre Aja on six feature films including PIRANHA 3D released by Dimension Films in 2010; MANIAC, a point-of-view thriller starring Elijah Wood, played in the Official Selection at the 2012 Cannes Film Festival, released by IFC Films; HORNS, an edgy supernatural thriller with a darkly comedic twist based on the bestselling novel by Joe Hill, directed by Aja and starring Daniel Radcliffe, it played in the Official Selection at the 2013 Toronto Film Festival and was released by Radius in 2014. Justine also worked with FOX International on two different films, as an executive producer, THE PYRAMID, an adventure horror film set in an ancient Egyptian pyramid, directed by Gregory Levasseur and released in 2014; and THE OTHER SIDE OF THE DOOR, a haunted house possession thriller set in India, directed by Johannes Roberts, released 2016. Justine also worked as a Co-Producer on, THE 9th LIFE OF LOUIS DRAX, a poignant family drama and a Hitchcockian thriller based on the book of the same name, directed by Alex Aja and starring Jamie Dornan, Aaron Paul and Sarah Gadon. The film was shot on location in Vancouver and released by Miramax in 2016. Under her own production company, "Building J", Justine produced "DICHTERLIEBE: POETLOVE" a modern musical opera; as well as her directorial debut, "WASTE" adapted from a short story by Amelia Gray. Most recently, Justine joined Blackpills, a new digital media company as their VP of Content. Originally from Warsaw, Poland Justine's passion for storytelling has taken her from stage to script and across the globe. She graduated magna cum laude from Barnard College, Columbia University and studied Theater, Philosophy and Anthropology. She has also trained at the American Conservatory Theater in San Francisco, Ecole de Theatre Jacques LeCoq in Paris and the Parsons School of Design
Filmmaker's note
After having worked in the horror genre as a producer for more than seven years, I began to feel increasingly de-sensitized in an environment, which was becoming inundated with violent films, often seen from the male gaze. It was the proliferation of zombie shows, and reading about real life monster stories, that I started to think something existential had changed in our culture. The inner anthropologist in me was both concerned and intrigued, and when I came across Amelia Gray's story WASTE, it struck a chord in me that I could not ignore. WASTE is a love story, but also an absurdist tale about the dangers of consumption and curiosity. Olive's character drew me in as the unassuming girl next door, who is quirky and open-minded—but to a fault. I could relate to her fascination with "other" cultures, her desire to push past taboos, and the fine line she straddles between art and artifice, in her never-ending search for "authenticity" and meaning. Olive is a refreshing female character, both the love interest and the villain, and a strong female anti-hero. The power dynamic between her and Roger is an interesting reversal of roles that plays into our fantasies and fears revolving around sexuality and transgressive desires. She pushes Roger past his comfort zone and forces him to question his detached existence. WASTE is layered with hidden meaning, and hints at the degeneration of western cultural values. Olive's curiosity to me was like modern culture's insatiable obsession with the new, centered around the act of consumption. It touches on the fad of extreme foodie-ism and the culinary quest for the forbidden that has spread across the world, particularly in California. When there is nothing left to consume, where else can one turn to, but oneself?
Notes
Director Justine Raczkiewicz will be participating in a Q&A after both screenings.
Related links