1/1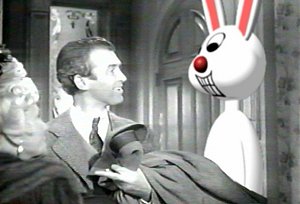 ---
DIGITAL HARVEY
Director: Federico Hatoum
United States, 1999, 10 min
Shooting Format:MiniDV
Festival Year:2000
Category:Narrative Short
Crew:Production: Force Fed Films, 234 5th Avenue, Apt. 4 Brooklyn, NY 11215
Email:Federico@hatoum.com
Synopsis
In this hilarious mockumentary, two misguided digital effects gurus "improve" the classic Jimmy Stewart film Harvey, in which Stewart befriends an invisible rabbit, by adding a computer-generated rabbit to every scene. Digital Harvey chronicles what happens when special effects and stupidity collide.
Trailer
About the director
Federico Hatoum, a graduate of Carnegie Mellon University and Brooklyn resident, is a writer, actor and award-winning filmmaker. Current projects include "Long Weekend", a feature-length screenplay, two new short films and a multimedia sketch comedy show with Big Yellow Box Theatre slated for mid-2000.
Filmmaker's note
The inspiration for my current short film, Digital Harvey, was born of my frustration with movies that are big on special effects but short on story. In general, I aim to make both entertaining and informative films--simultaneously, if possible.
Related links