1/1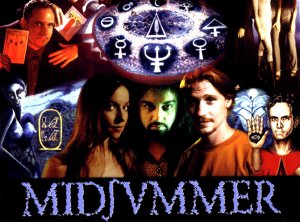 ---
MIDSUMMER
East Coast Premiere
United States, 1999, 17 min
Shooting Format:35mm
Festival Year:2000
Category:Experimental
Cast:Domenica Cameron-Scorsese, Bruce Dubose Arthur Morton
Crew:Editor: ROBERT J. CASTALDO Art Direction: DOUGLAS H. LEONARD Director of Photography DAVID BLOOD - Production Company: The Midsummer Partnership - CONTACT: James Kerwin 1940 Carmen Avenue, #5 Hollywood, CA 90068-4027 USA
Email:midsummerfilm@usa.net
Synopsis
In this edgy adaptation of a classic Shakespearean tale, a young man (Ashley Wood) must come to terms with his feelings for his best friend -- a beautiful but manipulative girl (Domenica Cameron-Scorsese) who finds herself torn between him and her fiance (Travis Schult). Set against a psychedelic backdrop of techno clubs and urban alleyways, "MIDSUMMER" uniquely merges elements of antiquity such as alchemy and astrology with modern ingredients like electronica. There are those who believe that the spheres of the heavens reign over the hearts of man... that our destinies remain tethered by infinite threads to the hidden geometries of the cosmos. It is said that even now, there is one swift night when nature's eternal harmonies awaken the shards of madness within our souls. On this very night, as the noble Theseus prepares to wed his beloved Hippolyta, the universe centers on the fair Hermia, radiant but coy... her passionate friend Lysander... the arrogant Demetrius, her jealous fiance... her father, the stern Egeus... the disheartened Helena, Demetrius's former love. And at the fateful hour when dusk surrenders to twilight, our mortal masks yield to the ageless forces that lie beyond the horizon of our dreams. The night is known as Midsummer.
About the director
A native of St. Louis, James Kerwin's resume includes work in front of and behind the camera on commercials, videos, and features, as well as live theatre. His films have won a Telly, an Axiem, the Norris Screenwriting Award, the Fort Worth Independent Film Award, and the Deep Ellum Grand Jury Prize.
Filmmaker's note
Unrequited love... the mystical nature of consciousness... the hidden reality that lies beneath the surface of human perception. These are some of the timeless, elemental themes we've tried to address in this psychedelic 17-minute film, produced as a prelude to a feature-length project currently in development. A surreal, modernistic approach to "A Midsummer Night's Dream," the short combines subjects like alchemy, astrology, electronica, the Tarot, and Jungian dream psychology into a pure audio/visual/cerebral experience -- a metaphysical encounter designed to touch the marrow of the universal human psyche.
Related links