1/1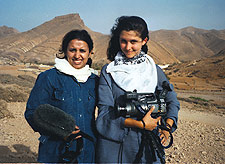 ---
THE VIRGIN DIARIES
Director: Jessica Woodworth
Sales:Lori Fried, Distributor - First Run / Icarus Films, 32 Court Street #2107 Brooklyn, NY 11201 - T: 718-488-8900 - F: 718-488-8642
Email:lori@frif.com
Synopsis
It all begins with a controversial kiss of the hand... Fatiha is on the verge of marrying the man her grandfather chose for her long ago. But her fiancé's disturbing views (he claims that, in the eyes of Islam, even a kiss of the hand is forbidden before marriage) shock her.
So Fatiha and her friend Jessica, an American researching Moroccan family law reforms, decide to embark on a journey through Morocco in search of answers to her questions about virginity, sex and Islam.
THE VIRGIN DIARIES is the story of their travels and their investigation, from ancient Islamic schools to the Saharan camel markets, from the offices of city doctors (the most common minor surgery in Morocco is the repair of the hymen) to beachside resorts.
Inevitably, this defiant quest produces few answers and lots of trouble. And things definitively skid out of control when Fatiha does the unthinkable and falls in love for the first time. Fatiha's random (or predestined?) encounter with a charming stranger suddenly pits duty against desire.
About the director
After graduating from Princeton in 1993, Jessica began working in television in Paris. She was then based in Hong Kong for two years where she wrote and produced educational and environmental videos. She acted as on-site producer for a Swiss TV documentary and coordinated the coverage of the Hong Kong handover to China for European TV networks and magazines. She attended Stanford University's Masters program in documentary film and video. Her thesis film "Urga Song" has been screened at several prestigious festivals and museums. Jessica received a Fullbright grant to execute research in Morrocco for "The Virgin Diaries," a co-production with broadcasters from six countries. Jessica is currently developing new projects in Siberia and Mongolia. Jessica now lives and works in Brussels.
Related links