1/1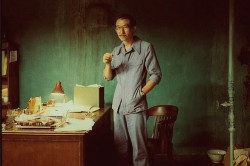 ---
POL POT'S BIRTHDAY
United States, 2004, 10 min
Shooting Format:DigiBeta
Festival Year:2004
Category:Narrative Short
Cast:Keone Young, Murphy Tan, Jerry Livan, Domnang Pin, Takeo Wong
Crew:Producer: Talmage Cooley - Screenwriter: Talmage Cooley, Anthony Sperduti - Editor: Akiko Iwakawa-Grieve - Cinematographer: Todd Somodevilla - Sound: Josh Kirsch, Keith Lomenza, Mark tanner - Line Producer: Justin Pollock
Sales:Talmage Cooley - Los Angeles Ca 90026 - T: 323-662-6882
Email:talmage@kinoglaz.com
Synopsis
The office staff of the most brutal dictator on earth attempts to throw a surprise birthday party for their boss.
About the director
Talmage Cooley's first film, the comedy short Pol Pot's Birthday, premiered at the 2004 Sundance Film Festival and received numerous awards at festivals worldwide, including best film, best screenplay and audience awards. The film was featured in the January 2005 issue of American Cinematographer. Talmage's second film, Dimmer, a documentary short commissioned by the band Interpol, premiered at the 2005 Sundance Film Festival and has been invited to numerous international festivals. Dimmer was included in a special short film exhibit at the New York Museum of Modern Art in April 2005. A book of Talmage's photography and stories, Public Love, was published by Chronicle Books in 1999. Talmage is also a founder of PAX, a national non-profit organization widely recognized for its work in developing innovative cultural and media strategies to fight the gun violence crisis in America. Talmage was recently named by RES Magazine as one of "2005's Ten Most Innovative Talents" in its April 2005 issue. He was also named in Screen International magazine as one of their "10 Emerging Talents to Watch" in May 2005. He is working on several feature film projects and is represented by the Endeavor Agency in Los Angeles.
Talmage Cooley's filmography
Notes
The director will be available for Q&A after the screening.
Related links