1/1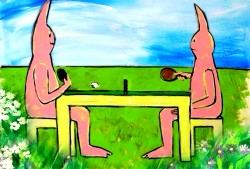 ---
PINK AND PONG
US Premiere
United States, 2004, 3 min
Festival Year:2004
Category:Animation
Crew:Alina Bliumis - Sound: Igor Vdovin
Sales:Alina Bliumis, NY, NY - USA - T: 1 917 701 0149
Email:alina_bliumis@yahoo.com
Synopsis
A search for kindred souls in an imaginary world of a big city.
About the director
Alina Bliumis was born in Minsk, Former Soviet Union in 1972. Since 1993 she lives and works in New York, where she graduated from School of Visual Arts, with a BFA degree in Computer Art. After graduation Alina was credited for her post production work in "Radioman" (Gold Prize for Animation at Priz Leonardo, Italy and final selection Animar Animation Festival, Spain). Also, her animation credits include MTV's animated series "Headtrip", TNT's documentary "Faces of Evil". Alina also directed a number of animation shorts: "Recipe for Melody" was featured at the 2002 Tampere International Film Festival and MTV's "Mpeg_us" in 2003. In addition Alina Bliumis is one of the organizers of Red Shift Festival, first festival of Russian filmmakers living in the west.
Notes
The director will be available for Q&A after the screening.
Related links