1/1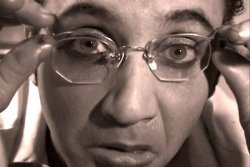 ---
MODERN LIFE
East Coast Premiere
United States, 1999, 6 min
Shooting Format:MiniDV
Festival Year:2001
Category:Narrative Short
Crew:production: storyfarm - screenwriter: Dean Mermell - cinematographer: Wago Kreider - editor: Dean Mermell - Music (The Graceful Ghost): William Bolcom - Piano and Arrangement: Dean Mermell
Sales:Storyfarm - 121 Santa Marina st, San Francisco, CA 94110 USA - T: (415) 282-4549 F: (509) 357-5460
Email:dean@storyfarm.com
Synopsis
Modern Life is a short film that honors the silent greats, particularly Buster Keaton. In Keaton's Sherlock Junior, Buster plays a projectionist who falls asleep in the projection booth. His "ghost" leaves his body and enters into the world on the screen. This effect was the inspiration for the main themes in Modern Life.

The score to Modern Life is William Bolcom's The Graceful Ghost, played by director Dean Mermell on the very piano that is in the film. Eerily, Dean wrote the script to the score before knowing its title.

Modern Life is the bittersweet and comic story of a young corporate couple who's "now" is slipping away. It is a cautionary tale about the dangers of losing one's spirit to a dot com world...
About the director
Dean Mermell is digital filmmaker, video editor, writer, and media content provider. He has been a contributing editor to Digital Video Magazine and has published numerous articles in Videography, AV Video, Creative Planet, and RES magazines. He also writes for web-based magazines 365Broadcast and Equip.com, and is a regular monthly columnist for Adobe.com
Related links