1/1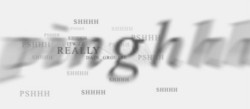 ---
LONDON
United States, 2003, 2 min
Festival Year:2004
Category:Animation
Crew:Garry Waller
Sales:Garry Waller, New York NY - T: 212.946.4152
Email:garry@rga.com
Synopsis
A short animation which uses the spoken word alongside animated typography to convey a brief story about the blitz in London during World War II.
As the animation unfolds particular attention is given to the graphic account of the German air raids over London. These are visualized using expressive moving type to convey what is being said. Throughout the animation type is in perpetual motion, sometimes jumping, fading, blurring, scrolling or exploding in timely fashion to enhance and further the experience of these lively and sometimes funny accounts.
About the director
Having spent the last several years working within the field of design & animation, Garry Waller has become accustomed to the subtleties of motion design for the screen. Studying at Central saint Martins College Of Art in London in '93 was the catalyst for his love affair with motion design, and he has since embarked upon a career spanning a number of disciplines but inevitably coming back to his first love of animation.
Aside from working in the commercial arena Garry enjoys the freedom of experimenting with motion outside of any restraints. This recently led him to explore the use of animated typography as an expressive medium to convey the spoken word.
Notes
The director will be available for Q&A after the screening.
Related links