1/1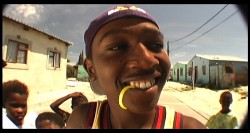 ---
FIRE & HOPE
NY Premiere
Canada, 2003, 16 min
Shooting Format:MiniDV
Festival Year:2004
Category:Documentary Short
Cast:Chinomy Jacobs, Mathew Johannes, Khayelethu Mofu, Kaylene Schroeder, Mphumzi Xokozela
Crew:- Producer: Claudia Mitchell - Editor: Shannon Walsh - Cinematographer: Kaveh Nabatian - Sound: Drew Malamud - Production Coordinator: Mandla Oliphant
Sales:Shannon Walsh, Montreal, Quebec - Canada - T: 514-844-1527 - F: 514-398-8260
Email:shannon.walsh1@staff.mcgill.ca
Synopsis
Young people have become the fastest growing group of new HIV infections in the world. In South Africa, the pandemic is at epic proportions, and young people have begun to understand that in one way or another, AIDS is affecting their lives. Fire & Hope is an inspiring documentary that looks into the lives of young activists in South Africa who are fighting HIV/AIDS in their communities. Set to a driving hip-hop soundtrack, Fire & Hope captures the vibrancy of this group of activist youth and the world they live in. The themes of the video are an entry point for deeper discussions with young people and by young people, about activism, gender, sexuality, masculinities, femininities, HIV/AIDS awareness and prevention in their lives and communities. As the startling statistics in Fire & Hope attest, young women are three to four times more vulnerable to HIV infection than their male counterparts, yet there is still very little within the popular media that specifically addresses issues related to gender, HIV and youth, especially in relation to the high rate of gender-based violence in South Africa. Fire & Hope emphasizes the need to end gender and gang based violence, to provide practical solutions to HIV prevention, to provide treatment and medication for those already living with HIV/AIDS, and to take positive steps towards empowering young people to take action in their own lives.
About the director
Shannon Walsh is a filmmaker, artist, and activist. She is particularly interested in using arts as a means social engagement. For the last number of years she has been doing arts-based work with youth around HIV prevention and AIDS activism in Canada and South Africa. Her last documentary dealt with a man who has been living in an airport for the past eleven years. Walsh is currently working on a number of new projects, including a experimental film and a short narrative fiction.
Notes
Shannon Walsh (director), Kaveh Nabatian (cinematographer) and Andrew Malamud (sound post-production) will all be attending the screening.
Related links