1/1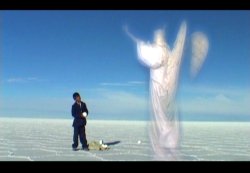 ---
ELEMENT - PLAYING PLANET
US Premiere
Germany, 2004, 72 min
Shooting Format:MiniDV
Festival Year:2005
Category:Experimental
Crew:Producers: Frank Otto & Bernt Köhler-Adams - Executive Producer: Oxossifilm GbR - Screenwriter: Eliane Koller - Editor: Frank Muller - Cinematographer: Ariane Bethusy-Huc - Sound: Frank Otto & Bernt Köhler-Adams - 3D animation: light & space - Graphics: N*AROMA
Sales:Ariane Bethusy-Huc, Oxossifilm GbR - Hamburg, Germany - T: 0049.40. 24 84 51 21 - F: 0049. 40. 24 84 51 11
Email:a.bethusy@oxossifilm.com
Synopsis
Element is a spiritual rock and film opus. At the beginning there was music. Various musicians were playing (and singing) with complete devotion, knowing that only the first take, as the most genuine, will be recorded. This way complex soundscapes were created, that served as the inspirational root of four films. One of these four films is Element - "Playing Planet". It takes us on a trip around the world. In a unique blend of documentary and fictive elements, the film tells 12 interwoven stories of human life. 12 destinies in a culturally diverse, fascinating world. The film plays with the real and the fantastic, it testifies peoples rituals, dreams and absurdities.
About the director
Eliane Koller grew up in three different countries ­ Germany, England and Kuwait. She regularly found herself confronted with new situations and challenges. After her studies of Anthropology and Documentary Film in Hamburg/Germany she founded the company "Oxossifilm" together with the cinematographer Ariane Bethusy-Huc. Their style is docu-fictional. Their intention is to widen ethnical and cultural horizons. And contribute to a broader understanding of profoundly different life perceptions in a world that is becoming more and more globalised every day.
Notes
Director Eliane Koller and cinematographer Ariane Bethusy-Huc will be available for Q&A after the screening.
Related links