1/1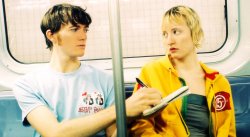 ---
FOUR EYED MONSTERS
Director: Arin Crumley & Susan Buice
United States, 2005, 81 min
Shooting Format:MiniDV
Festival Year:2005
Category:Narrative Feature
WINNER: Best New Director
Cast:Joe Rye, Marc Scrivo, Danny Ward, Trinity Rose, Brad Calcaterra
Crew:Producer: Less Life Lived - Cinematographer: Arin Crumley - Original Score: Andrew Peterson
Sales:Less Life Lived - Brooklyn NY - T: 718 366 5084
Email:susanbuice@mac.com
Synopsis
Arin is wedding videographer, in his spare time he makes video art and is hounded by his girl-crazy roommate who can't understand why Arin is not interested in picking up various girls at bars. Arin's shyness towards dating leads him to the wide world of online dating. Arin peruses Meetser.com, uploads his pictures and introduces himself to hundreds of women without any response. He finally gets a hit.
Susan is a waitress at a trendy restaurant; she works long hours dealing with obnoxious customers. Susan's art and creativity suffers due to her exhaustion and when she finally arrives home she only has enough energy to sleep and check her Meester.com inbox.
Afraid of turning into a couple who has meaningless conversations and talk in order to fill air space, Arin presents Susan with the idea of using a notepad to convey conversation and feelings, Arin believes that this will cure all fears he has of entering into a world of mundane relationships.
The key to this film is the subtlety of both deadpan humor and the personal growth that both Arin and Susan need to undergo in order to have a relationship with one another. They represent an age where young people move to big cities and find the biggest challenge of being surrounded by millions of people is finding companionship, which is why internet dating has become so effective in a computer oriented generation. Four Eyed Monsters is film that chronicles how technology is changing relationships.
Trailer
About the director
In high school Crumley participated in the "Art Quest Multimedia Program." There he began exploring abstract video art and short form documentaries. For two years Arin played in band and projected his video art live at the shows. In New York City he continued to make music, shoot and edit music videos and short films.
With Bachelor of Fine Arts from U Mass Amherst Buice moved to New York City where she hoped to continue her artist career. She spent most of her time waiting tables. After meeting Arin collaboration ensued and Susan began making short films and experimenting with animation. Her short "fischerchicks" has traveled the festival circuit. Shortly after meeting Buice and Crumley began writing Four Eyed Monsters.
Notes
NEW YORK, Dec. 15, 2006 -- The New York Times and Emerging Pictures, the New York-based digital cinema network, announced Susan Buice and Arin Crumley's "Four Eyed Monsters" as the winner of the 2006 Sundance Channel Audience Award for the eight-month-long "indieWIRE: Undiscovered Gems" Film Series.
Related links