1/1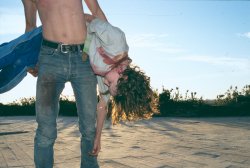 ---
MOUTH TO MOUTH
East Coast Premiere
England, 2004, 102 min
Shooting Format:35mm
Festival Year:2005
Category:Narrative Feature
WINNER: Grand Chameleon Award and Best Narrative Feature
Cast:Ellen Page, Eric Thal, Natasha Wightman, August Diehl, Beatrice Brown, Maxwell Mc Cabe-Lokos, Diana Greenwood
Crew:Producers: Judy Tossell ans Anne Beresford - Screenwriter: Alison Murray - Editor: Christian Lonk - Cinematographer: Barry Stone - Original Score: Rowan Oliver - Sound: Frank Kruse
Sales:Egoli Tossell Film - Torstr. 164 - 10115 Berlin, Germany - T: +49 30246565-0 - F: +49 3024656-24
Email:contact@egolitossell.com
Synopsis
How Sherry loses her virginity, her illusions and her lip ring in one trippy road trip. After hooking up with a bizarre collective called SPARK and driving across Europe in a blaze of substances, the crew land in a vineyard in Portugal, where Sherry discovers that she must pay a heavy personal price for rebellion. CLOSE YOUR EYES AND PICTURE THE PERFECT WORLD
Trailer
About the director
Alison Murray left Canada for the UK in 1985, returning to Canada in 2004. She received her MA in Film Direction at the Royal College of Art. She has made award-winning short films since Kissy Suzuki Suck (1992). The Institute of Contemporary Art in London presented a retrospective of her work, also shown at the Tate. She has directed over twenty music videos. In 2000 Alison completed Train on the Brain, an hour-long documentary for Channel 4 UK and TV Ontario in which she rode the rails across North America, armed with a DV and Super 8 camera. In 2005 Alison's feature film Mouth to Mouth, starring Ellen Paige, won BiFF's Grand Chameleon Award and Best Feature. Mouth to Mouth was released in the US in January 2006.
Alison Murray's filmography
Notes
Director Alison Murray and Actor Eric Thal will be available for Q&A after the screening.
Related links