1/1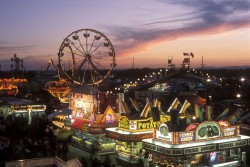 ---
CARNY
NY Premiere
Canada, 2007, 75 min
Shooting Format:DVCam, Super 8
Festival Year:2008
Category:Documentary Feature
WINNER: Diane Seligman Award (Best Documentary)
Crew:Producers: Kathleen M. Smith, Alison Murray - Editor: Roland Schlimme - Cinematographer: Virginia Lee Hunter, Alison Murray - Original Score: Don Kerr
Sales:Kathleen M. Smith - Hellhound Productions, 81 Bellevue Avenue Toronto, Ontario CANADA M5T 2N5 - T: 416-599-7604 - F: 416-599-7604
Email:ks@thehellhound.com
Web:www.carnydoc.com
Synopsis
CARNY is an intimate, gritty and poetic adventure following the lives of 'carnys' - traveling fairground workers whose experiences are outside the normalcy of most North Americans. Director Alison Murray whose last documentary saw her cover 9000 miles on freight trains to document the lives of 'hobos', teams up with photographer Virginia Lee Hunter to follow the fair. A visually stunning and emotionally engaging film.
Trailer
About the director
Alison Murray left Canada for the UK in 1985, returning to Canada in 2004. She received her MA in Film Direction at the Royal College of Art. She has made award-winning short films since Kissy Suzuki Suck (1992). The Institute of Contemporary Art in London presented a retrospective of her work, also shown at the Tate. She has directed over twenty music videos. In 2000 Alison completed Train on the Brain, an hour-long documentary for Channel 4 UK and TV Ontario in which she rode the rails across North America, armed with a DV and Super 8 camera. In 2005 Alison's feature film Mouth to Mouth, starring Ellen Paige, won BiFF's Grand Chameleon Award and Best Feature. Mouth to Mouth was released in the US in January 2006.
Alison Murray's filmography
Notes
Producer Kathleen Smith and Cinematographer Virgina Lee Hunter will be available for Q&A after the screening.
Related links