1/1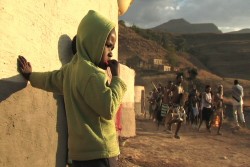 ---
THING WITH NO NAME
East Coast Premiere
Director: Sarah Friedland
Crew:Producers: Sarah Friedland, Esy Casey, Phumzile Ndlovu - Cinematographer: Esy Casey - Original Score: Konrad Kaczmarek - Sound: Sarah Friedland, Cazie Moll, Vusi Maphalala, Konrad Kaczmarek - Translator: Vusi Maphalala - Transcription: Eckson Khambule
Sales:Sarah Friedland, Brooklyn, NY, 11215 - T: 917-859-8328
Email:sarahema@gmail.com
Synopsis
Thing With No Name, a feature-length documentary, provides an unprecedented, intimate glimpse into the traditional life of a rapidly changing culture. Set in Okhahlamba, South Africa, a stunning, mountainous Zulu area and UNESCO World Heritage Site, the story follows Danisile and Ntombeleni, two women with full-blown AIDS as they attempt to access recently introduced antiretroviral (ARV) treatment through the public sector. Danisile responds well to the medications, with the support of her family and her volunteer nurse. Ntombeleni does not respond as positively, experiencing the delirium and difficult side effects that are a strong source of controversy within the Zulu culture. The univeral aspects of motherhood and the struggle to survive are explored through the womens' lives: Danisile's strained relationship with her teenage daughter, who secretly fears becoming one of South Africa's 1.2 million AIDS orphans, and the traditional Zulu ceremonies that Ntombeleni's family holds to combat her illness in their own way. Illustrating the bittersweet reality of the situation, through both the miracle of survival and the tragedy of falling victim to an overwhelmed medical system, Thing With No Name reveals the private and public obstacles that have led to an out of control epidemic.
Trailer
About the director
New York based filmmaker Sarah Friedland received her BA from Sarah Lawrence College in 2003 where she studied film and sociology. She also attended the International School of Film and Television in San Antonio de los Baños, Cuba. She has worked as an editor with several filmmakers in the New York area and abroad to produce socially minded and creative films. Her first feature documentary, "Thing With No Name," screened at widely around the world and was supported by grants from Jerome Foundation, the Paul Newman Foundation and the William H. Prusoff Foundation. In 2009, she was named "One of the top 10 Filmmakers to Watch" by the Independent Magazine. She is currently producing "Jeepney" by director Esy Casey and teaches at John Jay College in New York City.
Sarah Friedland's filmography
Notes
Sarah Friedland and Esy Casey will be available for Q&A after the screening.
Related links