1/1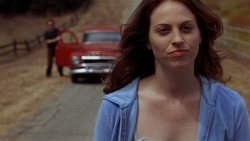 ---
MAGNETIC POLES
World Premiere
Director: Maria Rosenblum
Cast:Marjie Gum, Aidan Demarest, Mike Dimaggio, Dave Anthony
Crew:Producers: Samantha Davidson Green & Eli Akira Kaufman - Cinematographer: Eric Leach
Sales:Maria Rosenblum - North Bennington, VT
Email:maria.rosenblum@gmail.com
Synopsis
"Magnetic Poles" is about life's attractions and repulsions. Sonja, a cater waiter, is having a bad week. Her most recent intimate moment is with a cockroach. Her boyfriend of 7 years seems to be losing his ability to hold out in the sex department; she is caiter-waitering a wedding of her ex-boyfriends; her best friends flaunt their perfect relationship in her face and her boyfriend would rather spend time with his wanna-be white boy rapper buddy. Realizing her relationship is in trouble she seeks to re-attract her boyfriend by shaking up their normal life with a bizarre trip to a magnetic hill.
About the director
Maria Rosenblum, born on the Lower East Side of Manhattan, attended Bennington College where she received her BA in acting and lighting design and most recently an MFA at UCLA's graduate program in film directing. She has received many awards for her skill in film directing: the James Bridges Award for Excellence in Filmmaking, the Caucus for Television Producers, Writers & Directors Foundation Award and the Jim Morrison Award to name a few. She is currently directing a feature length documentart entilted, "The Myths of Mothering".
Notes
Maria Rosenblum will be available for Q&A after the screening.
Related links