1/1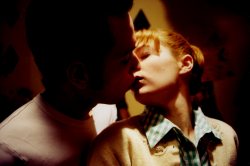 ---
HEAVY SOUL
NY Premiere
United States, 2005, 14 min
Shooting Format:Super 16
Festival Year:2006
Category:Narrative Short
Cast:Sally Conway, Guil Fisher, Mike horn, Brittany Kubat, Asaf Kolin
Crew:Cinematographer: Ryan Gould - Original Score: Charlie Megira - Sound: Oscar Zambrano
Sales:Oren Shai, Brooklyn, NY - T: 917 6502791
Email:oren@rockingoren.com
Synopsis
1959. In a world of teenage lust and twisted morals, of drive-in movies and rock 'n' roll, it is hard to keep one's innocence. With a simple roll of the dice, the child becomes a predator. The saint, a sinner. At the tender age of 18, Dakota Thompson, became a real life junkie. Now, as she is being treated for her addiction, Dakota's life and downfall flash before her eyes. Watch her, as she struggles to keep herself pure in a world of desperate teens. Watch her, as she fails to fight peer pressure and descend into addiction. Watch her, and ask yourself, could you have saved Dakota Thompson?
About the director
Born in Israel in 1981, Oren Shai completed his first short film, "Rocking", a tale of 1950's delinquents who terrorize a mutation of an Israeli suburb, in 1999. 6 years, 5 short films, 2 music video, a tv show, MTV2 Promo and 4 years of school later he completed "Heavy Soul" in New York City, USA and looks forward towards his future endeavors in the industry.
Notes
Director Oren Shai will be available for Q&A after the screening.
Related links