1/1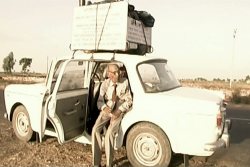 ---
BEG, BORROW OR STEAL
US Premiere
Director: Andreas Koefoed
Denmark, 2006, 36 min
Shooting Format:DVCam
Festival Year:2006
Category:Documentary Short
Cast:Ishwar Chandra Rahi
Crew:Producers: Andreas Koefoed, Mikael K. Ebbesen - Editor: Mikael K. Ebbesen - Original Score: Bo Rande, Kristor Brødsgaard - Sound: Jakob Nygard & Kjetil Mørk - Graphics: Katrine Granholm - Colorgrade & Effects: Jannik Vestmar
Sales:Andreas Koefoed, Denmark - T: +45 40914031
Email:ako@filmskolen.dk
Synopsis
Rahi has seen it all: 36 countries on three continents - on his bicycle from India! Now, 89 years of age and a self-appointed Professor of the World, he sets out in a rented taxi on an intellectual tour de force across India. He plans to gatecrash universities all over India to give lectures to young people and sell his mystical books on the origins of language. Although inhibited by very limited funds Rahi finds himself experiencing the joyful life on the road once again. However, he soon realizes that the world has changed; people are not buying his books, and his theories are frowned upon. Suddenly his journey turns into a real struggle for survival. Beg, Borrow or Steal is a road movie about a man turning old in a world turned modern. It is an intimate study of old age and a universal story about the basic human need for recognition.
About the director
Andreas Koefoed (1979) was born in Copenhagen, Denmark. Andreas received a BA in sociology from Copenhagen University. Since 2000, he has worked as director and cinematographer of documentary films and television programmes. At present, he studies at the documentary department at The National Film School of Denmark.
Notes
Director Andreas Koefoed will be available for Q&A after the screening.
Related links